Almost 10 years ago I bought my first SLR camera. That was a Canon, and I'm still a loyal Canon customer today. My current camera of choice is the Canon Digital Rebel XSi, and I don't know how I ever blogged, scrapbooked, or lived, frankly, without it. I use it every day and with a minimal knowledge of photography, even I can take pretty great pictures.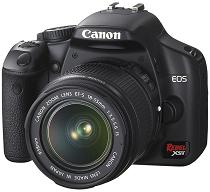 I have been using a point and shoot digital camera for the last several years, and I have to say that moving from my point-and-shoot to a digital SLR was like going from an 1973 Volkswagen Fastback (which I drove in high school and loved) to a Porsche.
My Rebel XSi instantly increased my potential as a mommy photographer. Since I got my digital SLR, my ability to genuinely capture the moments of Joel's life has skyrocketed. The photos I can take now honestly capture the real Joel as he is in that very moment, something I felt my point and shoot could never do. I could never get a point-and-shoot photo to feel like the real thing like I can with my Rebel XSi. Besides the great pictures, I love the XSi because it's so simple to use. The layout of the camera is intuitive and only took me a few minutes to feel comfortable with.
I first became interested in photography as a hobby when I was in high school and saved every penny from my after school job at A&W to buy a 35mm Canon SLR so I could record my life visually. I still feel that drive to capture moments with my camera, and one of the my simplest pleasures is looking at those photos and remembering the feelings and stories that accompany them. I am on a daily quest to visually capture my life as it is day by day, and I have learned that I am only as good as my Canon – fortunately for me, that's pretty good.