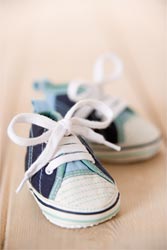 I am pretty consistently incensed at the price of kid's shoes. I go to the store and think – ARE YOU SERIOUS? FOR KID'S SHOES!!! The prices are outrageous. I am a resourceful woman, however, and have come up with two perfectly acceptable solutions to the evil that is overpriced kid's shoes.
My favorite solution is to find kid's shoes at yard sales. I have found several pair of practically brand new shoes for my son and paid an average of $.50. Now that's buying price, folks.
The other solution is the brilliant shopping tip. I trace Joel's feet and carry the paper in my purse so if I find a pair of shoes on sale I can get the right size. Shoes on sale go quickly – I don't want to miss out on the sale because I got the wrong size, and it seems like every pair of kid's shoes is sized differently so just knowing a number doesn't always work.
This isn't quite as necessary for adult shoes since sizes are more standardized, but I have found it helpful a few times, especially if I'm asking someone else to get a pair of shoes for me. I asked my Grandma to pick up a pair of Locals flip-flops in Hawaii last time she was there, and I had no idea how those would be sized, so I gave her a piece of paper with my foot drawn on it. She brought me back a pair of Locals that fit perfectly.
Ooh, and some other good shoe news!!! I have recently discovered that companies like Candies and Mudd now make their shoes in size 11! This is a new development – I know because I used to get really irritated that those brands never had my size.
Fellow big feet? Shoe manufacturers are getting smarter. We can buy cute shoes now, too!