When it comes to paper crafting, I love to get ideas from other people, especially magazines. That's what they're for, right? When I sit down to make a card, I need a healthy stack of examples to sift through and choose from. I don't subscribe to any craft magazines (yet), but my library does. I check out Card Maker Magazine from my library and take pictures of or scan the ideas I like. The CARDS publication is also fabulous. When I'm ready to make a card, I look through that file on my computer and pull elements from different samples to make my card.
Taking pictures or scanning of things you like in books or magazines is a great way to hold on to those ideas that you love without cluttering up your craft room with paper. If you actually subscribe the the magazine, which is perhaps the next step up, you can save just the ideas from the magazine that you'll actually use. Tear out the pages with your favorite ideas and organize them in sheet protectors in a 3-ring binder. You'll save lots of time and space by saving just what you need from the magazine to jump start your creativity.
Here are some samples from Card Maker Magazine that I photographed: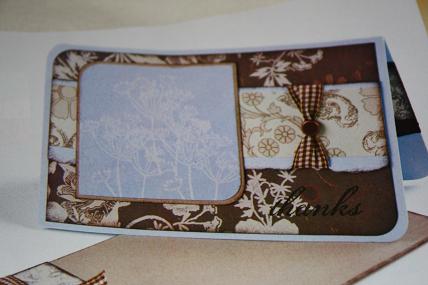 I love the rounded corners on just the opposite edges, both on the card itself and that little square piece on the surface. This kind of repetition is a very effective principle of design that helps your cards/scrapbook pages look more balanced and finished.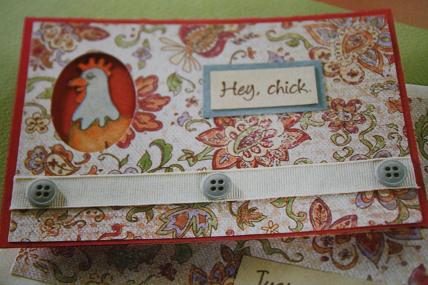 I liked the buttons and ribbon used together on this one. I don't love the chicken or the paper pattern, but that's okay because I'm just looking for little elements that I like and can apply in another way.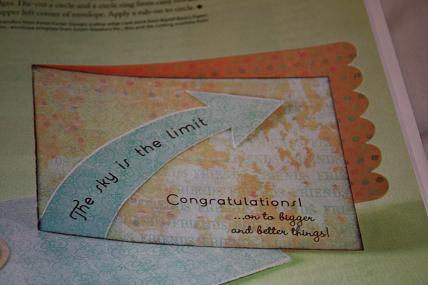 I love how the back side of the card is wider than the front and has a decorative edge. This is a fun idea that you can use in tons of different ways.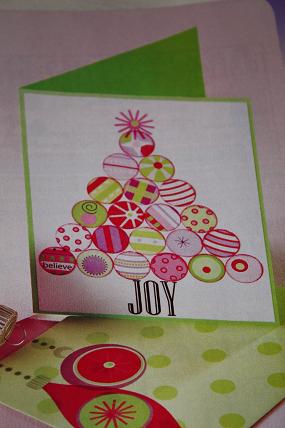 And I love this one. Little circles of paper in a tree shaped pattern – or you could just fill up the whole front of the card with circles of different colors and patterns. You could come up with so many different variations for this design.
See what I mean? Saving ideas you love makes crafting easy!
To take up close and detailed pictures like this you'll need a camera with a macro setting. A digital SLR is the best because you can get the flash farther from the paper and avoid the glare, but a point and shoot will work also – you might just have a little glare from the flash. My Canon Rebel XSi is fabulous all around, especially when it comes to the macro mode.
My last tip is to take pictures of cards you make and love so you can remember the basic design to repeat on another card. Happy crafting!
{photos taken with a Canon Digital Rebel XSi}