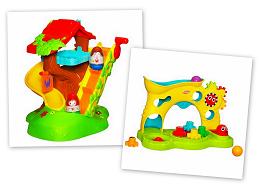 THE PRIZE
One reader will win a:
PLAYSKOOL WEEBLES Musical Treehouse Playset (18 months+) AND A
PLAYSKOOL EXPLORE `N GROW MUSICAL GEAR CENTER Playset (9 months+)
MY REVIEW
Weebles Musical Treehouse
If you' haven't heard…WEEBLES ARE BACK!
I was born in the 80s and unfortunately didn't get to enjoy Weebles as a kid.  If you missed
them too Weebles (/wee'b*l/) are: an egg-shaped plastic toy person with a weight in the bottom so that, if tipped over, they would right themselves and stand up again. They were popular in the UK during the 1970s and were famous for the slogan "Weebles wobble but they don't fall down." (definition from Dictionary.com)
Weebles usually come in sets of two and they have all kinds of different characters to collect.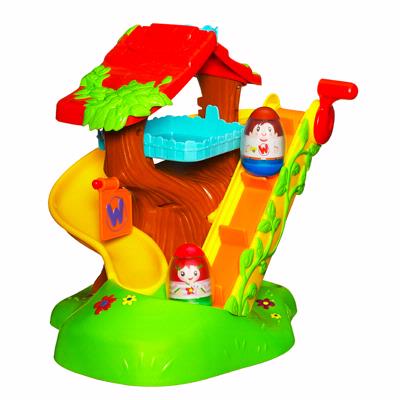 The Weebles Musical Treehouse is a great place to start your collection – it comes with two Weebles and a place for them to play.
The Treehouse has a hand crank lift that carries Weebles to the top of the tree and a slide to send them back down. It also has a wobbly deck and plays 4 songs or 8 different sounds.
We received this toy to review, but I'm saving it for Gus to open Christmas morning. We'll do a more in-depth review later…
EXPLORE `N GROW MUSICAL GEAR CENTER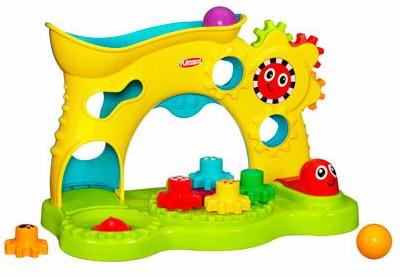 The Musical Gear Center all the great elements of a baby toy – gears, balls, buttons, and music, and there's lots to do. Push the button to start the music, set the balls rolling down the tube and watch them spin at the bottom, and spin the gears around and around and around…Or turn the music on and dance, baby, dance!
Of course the balls can be played with anywhere and the gears can be taken off to stack and knock down, so the Musical Gear Center will keep baby busy and happy for months and months.
Mr. Potato Head – Woody's Tater Round Up
We also received the Woody Mr. Potato Head to review, and I'm also saving it for Gus to open on Christmas morning. I can't very well spoil the child by giving him new toys just a few days before Christmas!
I can't wait for him to open this up. He loves puzzles and Mr. Potato head is the best kind of creative puzzle, and all the Woody clothes are perfect!
The potato body comes with one pair of eyes, one nose, one set of teeth, two arms, two ears, one cowboy hat, one vest, one belt and one pair of cowboy boots accessories.
I also bought a fireman outfit for Gus to open alongside Woody…he's going to love it!
Thanks to Hasbro for sponsoring this giveaway!
GIVEAWAY RULES

Visit Hasbro.com
Come back here and leave a comment stating your favorite product before midnight Sunday, December 26.
A winner will be selected and announced at the top of this post on Monday.
Winners will have 3 days to claim their prize – if I don't hear from the first winner, another winner will be chosen.
Only one comment per person unless you earn extra entries.
Giveaway open only to residents of the continental United States…sorry.
EARN EXTRA ENTRIES
You may earn 1 extra entry each for doing the following (make a separate comment for each thing you do):
Facebook about the contest
Subscribe to my YouTube Channel
Subscribe to my feed
Sign up for my newsletter
Add my button to your sidebar
Comment on any non-contest post (must contribute to the conversation)
{These products were provided to VanillaJoy for review purposes.}