We have two more giveaways to announce to start off Week 2 of the Christmas giveaway – there will be two today and two more tomorrow so we can get winner's announced and prizes delivered before Christmas.
As of today, you can still enter to win the See Kai Run giveaway from last week, and you can still earn extra entries to apply to these contests by blogging and linking.
Here are today's contests:
1. A $50 gift certificate to BrightOctober.com
| | | |
| --- | --- | --- |
| | | |
Everyone has stacking, sorting, and pull toys, but Bright October has stacking, sorting, and pull toys like you've never seen before with bright and whimsical colors and interesting shapes and designs.
I get so bored looking through the shelves in regular toy and general merchandise stores because they're all pretty much the same, nothing unique that you can't find anywhere else. This year especially, probably because I really looked this year, I've noticed that toys just aren't the same as they used to be. The quality and selection is really very poor. So disappointing.
Bright October is the place I go when I need a unique and good quality toy – that's pretty much all they have!
They carry wonderful toys for children of all ages. These building block sets are another favorite thing of mine – I love the clean, simple, and sturdy wood look that makes it feel like you're really building something for real, with real wood! These building blocks are great for little hands and creative minds – building with blocks or Legos, etc., is a great way to get your child using his imagination and problem solving skills to build something wonderful. Another great thing about these building blocks is that they are fun for much older children too. I know my brothers played with Legos for many many years, so lots of kids take a while to grow out of a toy like this.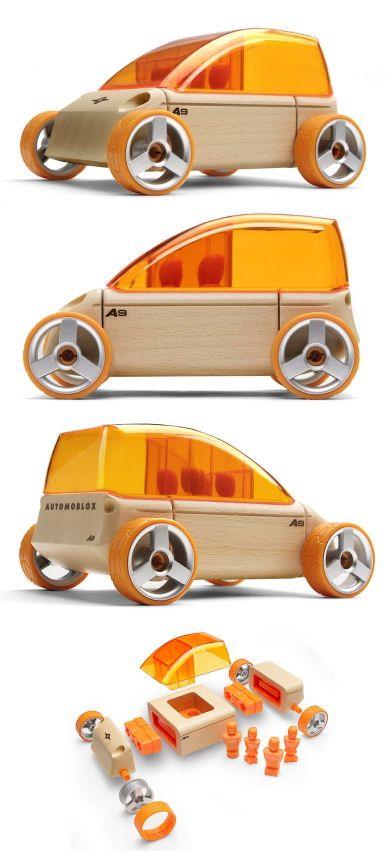 I could go on and on about favorite things, but I'll stop with this one. I don't really need to say anything about this little Automoblox car do I? This is going to be a Christmas gift for my son, and I can't wait to watch him play with it. I know he's going to love taking all the little pieces apart and putting them back together. He's really into taking apart/putting back together right now, so this will be perfect.
The base of this little car is solid maple wood and then all the little colored pieces come off. There are little people that can ride as passengers inside and the parts are interchangeable with some other Automoblox cars.
Like I said before, lots of stores have toy cars but nothing like this. Bright October toys are so bright and colorful and so much more intricate and unique than other toys. I have been really impressed with the quality of this little Automoblox car. It doesn't feel like it'll break if it runs into something. And once again, this is a toy that suits toddler age children all the way to pre-teens!
Bright October is pretty much the one-stop shop for cool toys this Christmas. Enjoy browsing!
Thanks, Bright October!
2. Holly and Hal Moose gift set by Build-A-Bear

A second lucky person will win these two adorable, soft, cuddly, and festive furry holiday friends from Build-A-Bear.
I first saw Build-A-Bear on Oprah, years ago, and ever since then I have been anxious to have a child old enough to enjoy the pleasure of building their own little animal friend at the Build-A-Bear Workshop. I have been sorely tempted to build one for myself, I love the idea so much. I love that you get to go into a store and customize your friend AND put it together yourself. I think that makes the friend so much more loveable to the child! Such a great idea and such a gracious company for providing two of their special animal friends for one of you.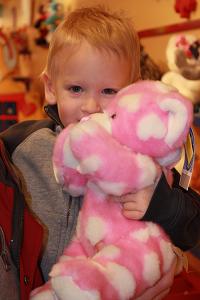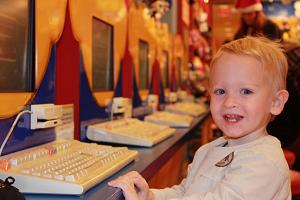 We actually did go on Friday night to build a bear, but there were sooo many people we decided to wait until another time. Maybe in a year or two, actually – I don't think my son is quite ready for that unique experience yet since the friend he wanted was a pink bear with hearts. I'm more of a traditional blue for boy/pink for girl kind of mom, so I didn't go for that. He did really like watching the stuffing/fluff machine spin the batting 'round and 'round and 'round. He also loved the little computers where you name your friend, etc. I can't wait to go back and do it for real.
I was super impressed with the employees at the store. They were so excited and enthusiastic with the kids, it kind of felt like Disneyland!
A Build-A-Bear is one of those gifts that's common and unique at the same time. I want to make Build-A-Bear a tradition in our family because I think letting a child choose a special friend and create it himself is a special thing. You still have time left before Christmas to Build-A-Bear!
Thanks, Build-A-Bear!
___________________________________________________________
Blog Giveaway Guidelines:
To enter this contest, leave a comment on this post between now and midnight PST on Wednesday, December 17th.

You can earn additional entries for this contest, and I would strongly recommend doing so to increase your chances – it's easy!. To learn how to increase your chances of winning, click here.
One comment per person, and you must include your name.
This giveaway is only open to residents of the continental United States…sorry.
The winners will be randomly picked and announced in a new post on Thursday.
If you have a product you would like Vanilla Joy to review and give away, email me at kelsey [at] vanillajoy [dot] com. Thanks!