The winner of Day 4's prize will get to choose any one pair of shoes from See Kai Run, the child footwear store with the most adorable shoes in the known universe. And don't forget, you can still earn extra entries!
Look at these little girl shoes! Sometimes I wish they could make these shoes in my size, I like them so much.
See Kai Run does a pretty good job in the boy department as well, an unusual accomplishment. Most boy shoes (like nearly everything else boy-ish) is just plain and boring. But See Kai Run manages to keep things boy-ish without the boring – I haven't seen boy shoes this cute anywhere else!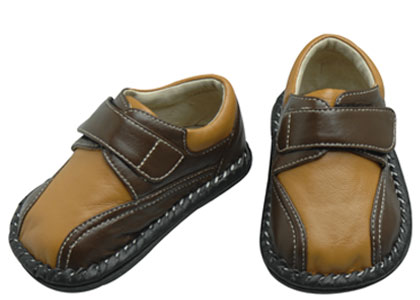 I love their variety and fun color combinations. The quality is also superb. I have the pair of shoes above for my son, and I was amazed at the quality of the genuine leather and the careful stitching. Kids' shoes have to be good quality if you want them to last because they're so hard on everything! I have no doubt that I will be able to reuse these shoes with many future children, and that's important to me. When I buy something, I'm willing to pay a little extra money if it means they'll last longer. It's worth it in the long run. I don't think these shoes will be wearing out any time soon!
The winner of this contest has a very difficult choice ahead of them. Even if you don't win, these shoes would make a great Christmas gift!
Thanks, See Kai Run!
___________________________________________________________
Blog Giveaway Guidelines:
To enter this contest, leave a comment on this post between now and midnight PST on Monday, December 15th.

You can earn additional entries for this contest, and I would strongly recommend doing so to increase your chances – it's easy!. To learn how to increase your chances of winning, click here.
One comment per person, and you must include your name.
This giveaway is only open to residents of the continental United States…sorry.
The winner will be randomly picked and announced in a new post on Tuesday morning.
If you have a product you would like Vanilla Joy to review and give away, email me at kelsey [at] vanillajoy [dot] com. Thanks!