Christmas is coming up quick, and I don't know about you, but I have no idea what I'm going to get my husband and son. Especially my son. I would never have thought that buying a few Christmas gifts for an 18 month old would be that hard, but… I just don't know!
One thing I do know is that we will be getting a game for our family as an "Allivar" present. (When I was a kid, there were always a few presents under the tree for "Allivar." Allivar is not a person, it's just the label for a present that's All of Ours. My mom is clever, huh?)
We love games at our house, especially card and strategy games. If your family loves games, here are our 3 favorites. These are for older children and adults, so if your family is older, these would be great family Christmas gifts.
1. Settlers of Catan, Catan Seafarers, and Catan Cities & Knights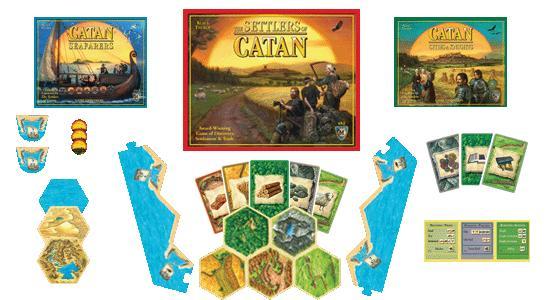 This really is three separate games, but they all build on each other so they're kind of like one… Start with Settlers of Catan and you will become addicted and buy the other two next year for Christmas. This game is so much fun if you like strategy games. The whole point is to earn resources and build up your own little village on the game board. The other players are trying to do the same thing, so land is scarce and you have to play quickly and be smart. You can trade resources with other players, earn double the resources, and get specialty cards that allow you to have an army, etc. Things can get pretty intense, so remember…it's just a game. I want to play right now!
2. Ticket to Ride
This is another great strategy game, although it's not nearly as intense and competitive as Settlers, which is a good thing. This is the North America version – we actually have the Europe version but have played both. The rules are a bit different, both are great games.
In this game, play begins with each person getting 3 "tickets" with routes between two different cities. Each ticket has a different route, and each route has an assigned point value. Longer routes are worth more points, etc. You have to keep at least 2 of these initial tickets, and throughout the game you will be building along your route with your train car playing pieces. Players get to draw cards each turn that allow them to build sections along their route. Once one player has used all their train cars, each other player gets one more turn. Then you count up points and see who won.
Like I said, this game is not nearly as cutthroat as Settlers, but it's still a fun strategy game. Younger kids could easily play this game (maybe 10+).
3. Nertz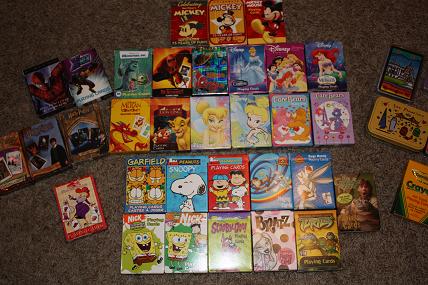 This is the best card game around, so if you don't know how to play, you should definitely learn. Pretty soon I'm going to do a video tutorial on how to play, but for now, you can read the instructions here.
You can buy a special Nertz deck, but we just use regular cards. You can use regular cards as long as each person has a deck with a different design on the back. Nertz is the whole reason I began collecting cards (betcha didn't know that about me!) and now have over 50 decks of cartoon, movie, etc. themed playing cards (my favorites are pictured above).
Tutorial coming soon!
Hopefully I've given you at least a few options for family Christmas presents. Games are a great family activity and will definitely get you spending more time having fun together.