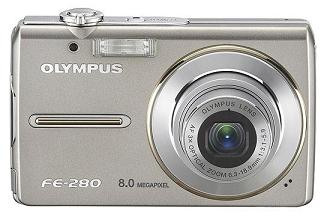 We also got a digital camera for Christmas. My first digital camera was an Olympus and it took great pictures. This camera is of the same great quality but has a few more features.
This camera has a 2.5″ LCD screen on the back which is HUGE! It's awesome for both taking and viewing pictures. I also love how small and light it is (2 1/4 h x 3 1/2 w x 5/8 d).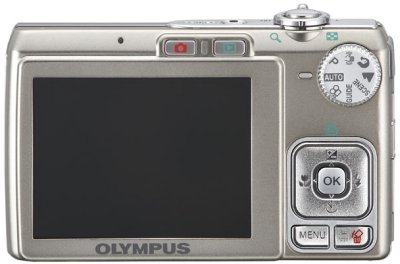 It has a lithium ion battery which I find much more convenient than AA batteries, even if they're rechargeable, because it lasts so long.
There are 15 shooting modes:
night portrait
sport
indoor
candle
self portrait
sunset
fireworks
behind glass
cuisine
documents
auction: captures 3 pictures at different exposures
smile shot
under water wide 1 (requires underwater housing)
under water wide 2 (requires underwater housing)
under water macro (requires underwater housing)
I've been pleased with the quality of pictures I take indoor. Many digital cameras take dark indoor pictures, but this camera does a fantastic job. The pictures can be grainy when indoor and the subject is too far away for the flash to really reach but the solution to that problem is easy.
The flash recharges quickly and so the recycle time is fairly low. I'm able to take pictures only a few seconds apart which is important to me. It seems like babies smile only after the picture is taken so you need a camera that is ready to take a second picture as quickly as possible.
Another of my favorite features is the macro. On the macro setting, I'm able to take really close up pictures and the details are clear and in focus. To test this setting out I took a picture of some print in a magazine and I was able to read the text clearly in the picture.
Lastly, I find that the camera is easy and intuitive to use. It only took me a few minutes to figure out how everything worked and to feel comfortable with all the options.
One thing that I did have a problem with at first was viewing the pictures without turning the camera on. There is a button you're supposed to be able to push to turn on the LCD screen to view the pictures without the whole camera turning on but it wouldn't work at first. I even took the camera back and exchanged it for another one because I thought the camera was broken. The replacement camera had the same problem! I decided to call Olympus directly and ask them what they knew about it and while I was on hold waiting to talk to someone I was browsing through the camera and found the answer. In the "setup" folder you have to turn that option on. When you buy the camera the view mode is turned off so you have to turn it on. Problem solved!
This camera is AWESOME. It's fun and easy to use and I LOVE IT! It's also a great price. Regular price for this camera is between $160 – $200 depending on where you go. That's a great price for the quality of camera.