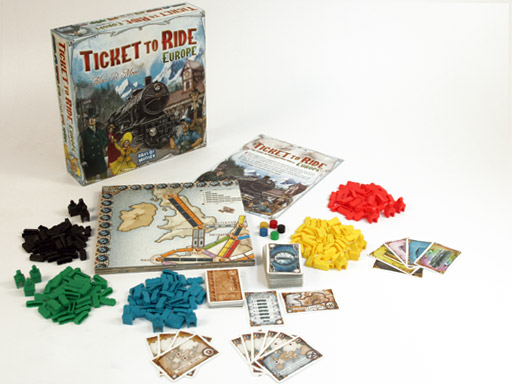 We love games in our family. Both my husband and I grew up in game playing families and so we've carried that tradition on together.
The newest addition to our collection is Ticket to Ride, which has several different versions. I was only aware of two, but apparently there are four different versions: USA, Europe, Germany, and Switzerland. We had played the USA version and decided to buy Ticket to Ride: Europe for Christmas.
Basically, the board is a map with cities on it. At the beginning of the game each player is given several tickets. The tickets give you a route, Moscow to Rome, for example, and each route is worth a certain number of points. You choose at least two tickets to keep and throughout the game you have to build trains along those routes.
This game can be played with 2-5 players so everyone is potentially trying to build in the same places. It's a race to see who can complete their routes first. The person with the most points at the end wins the game. For more detailed game rules and other game information, visit DaysofWonder.com.
I love this game because it's different every time. Each game you get different tickets and are trying to build different routes so it doesn't get old and boring.
Also, Ticket to Ride won the "German Game of the Year" award in 2004. We have played many of the games that have won this award and they are always our favorites. (We also love Settlers of Catan, which won in 1995.) If you're looking for a game to buy your family, click here.  This post lists the German Game of the Year award winners and nominees from 1979 to present.
Get Ticket to Ride this year! It's one of our favorite things!
[photo from daysofwonder.com]