We weren't actually able to go pick raspberries yesterday. Sad. Fortunately, I called the place before we left and found out that the farm was closed because of rain so our raspberry/freezer jam party was postponed.
Something else exciting happened, though, and I learned a great…
Furniture Buying Tip
I've been wanting a big comfy arm chair for our bedroom, and it takes me a while to decide what I want and then even longer to actually spend the money. We went to Down East on Saturday ready to buy, and?!? They no longer carry the chair I wanted. Typical. But they had another chair that I liked even better, for only $20 more!
Down East sells clothing and overstock/imperfect furniture from high end places like Pottery Barn, etc. I found this really comfortable chair and a half for $420, but there was a big spot on the bottom of one side. The manager said it came in like that and was the reason for the already discounted price, so no, I could not get another discount.
Well, I happen to be a pretty persistent person so I asked the manager again a little later, pointing out the same chair in another color that didn't have the spot. He said he would see what he could do, and knocked $120 off the price! I got this awesome and beautiful chair for $299.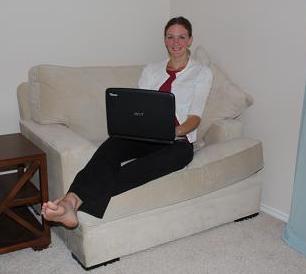 Basically, when you're shopping for big ticket items, remember that their profit margin is pretty big so they can afford to knock a bit off for you if they feel like that's the only way they'll get the sale. You have to be persistent and make them think that you're going to walk out and never come back if they don't give you a good deal. And it never hurts to examine the item really closely to find any small defect or imperfection, because they'll almost always lower the price for something like that.
I was so excited to get such a good deal, and all because I pestered the guy a bit, which I don't mind doing at all. A little pestering can save you hundreds of dollars, so next time you are in the market for some furniture, remember to ask and then ask again. If you need some coaching, let me know.