THE PRIZE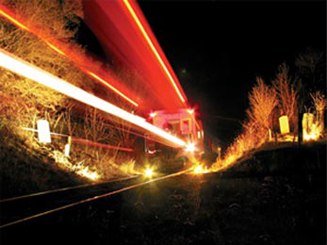 One reader will win a family 4-pack of tickets to Heber Valley Railroad's Haunted Canyon!
MY REVIEW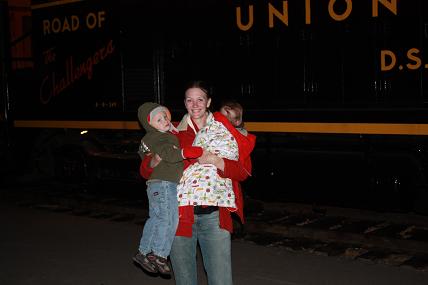 Our family went on this spooky train ride last Friday and it was a perfect activity to get in the Halloween mood.
The Haunted Canyon begins at Vivian Park, just a few minutes' drive from the mouth of Provo Canyon. When we first got on, there were spooky lights and music to set the mood and we were off promptly at 9:30 for an adventure filled with scary stories and some unexpected visitors…
As we crept through the canyon, we saw the stories come alive outside our train windows. Deposited all along the tracks were lights and scenes to depict the stories being told.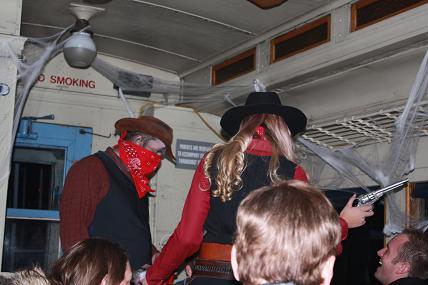 Shortly after our departure, a romantic pair of bandits hopped on the train and demanded to see all wedding rings. I guess this outlaw was looking for a piece of bling to give to his outlawess. He didn't get mine!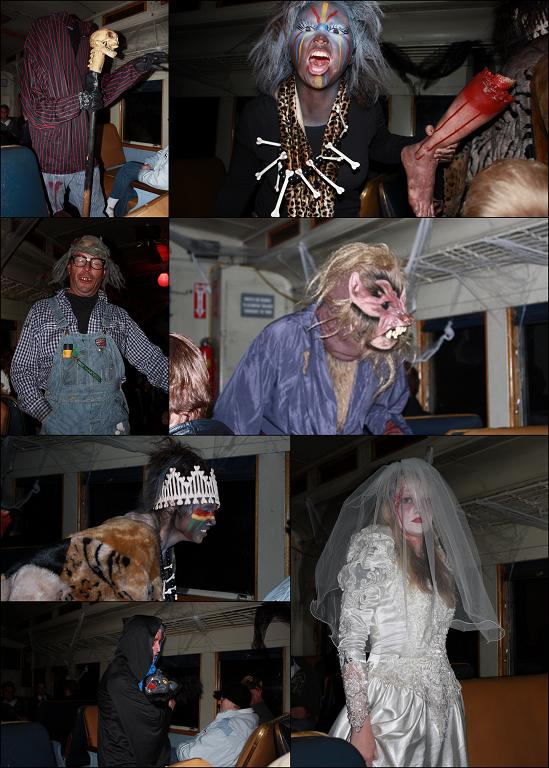 One story was about a couple who were hit by a train in the way to their wedding. The bride was killed and is said to haunt the area of track where she met her demise. That story must be true, cause we saw her out on the river doing her haunting!!! And then she came on the train (as you can see in the bottom right)!!!
All the characters from the story made an appearance inside the train on our way out of the Haunted Canyon. Their costumes and makeup were truly terrifying. I was a little scared myself…but that's the point!
The stories and accompanying scenes were very creepy and lots of fun, especially great for young teenagers. Our train was full of them and they were having a great time. There were also older couples and some college aged students. This creepy train ride was way better than a scary movie or a haunted house for sure. The old train rolling through the dark canyon is the perfect stage for scary stories!
(We took Gus (5 months) and Elliot (2 1/2) because the website says "Suitable for younger children and adults alike." I think by "younger children" they meant like younger grade school children, not toddlers and infants. I was expecting something much more mild and it was kind of intense and scary, which is perfect for adults and older kids. Gus was kind of oblivious and I think Elliot is actually too young to get "scary" so they were both okay, but I don't think this would be appropriate for kids younger than about 8, unless they're really daring. But Boyd and I both really enjoyed it and it's definitely something we'll want to take our kids to when they're older.)
Overall, the Haunted Canyon was a great combination of all the scary things people like to do on Halloween. It was definitely a night to remember!
GIVEAWAY RULES

Visit HeberValleyRR.Org to check out the details of the Haunted Canyon.
Come back here and tell me what you're going to be for Halloween before midnight Thursday, October 15.
A winner will be selected and announced at the top of this post Friday.
Only one comment per person unless you earn extra entries.
Giveaway open only to residents of the continental United States…sorry.
Winners must email me to claim their prize within 5 days.
EARN EXTRA ENTRIES
You may earn 1 extra entry each for doing the following (make a separate comment for each thing you do):
Facebook about the Haunted Canyon with a link back here
Tweet about this contest with a link back here (copy and paste http://www.vanillajoy.com right into the text box)
Blog about this contest with a link back here
GOOD LUCK and THANKS!