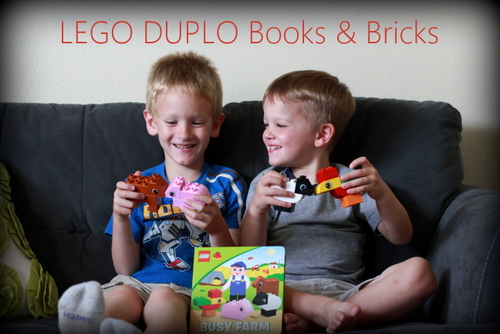 LEGO has been a favorite brand for my family for decades, and my kids love LEGOs just as much as my brothers did when they were young. Building toys are so classic and LEGO has really perfected the art of building play with their products.
This new line, LEGO DUPLO Read & Build, combines the best of two worlds – building and reading, two of my boy's favorite things. AND Elliot is learning how to read so this product is even more perfect – he can practice reading while he builds and plays.
We started reading lessons a few months ago and as we get further and our lessons get longer, Elliot's attention sometimes wanes. The BUSY FARM LEGO brick and book set is perfect because Elliot can practice his reading while he uses his hands. Learning through multiple senses simultaneously is so effective and combining sight, hearing, and touch is an amazing way to engage these busy little boy's bodies and brains.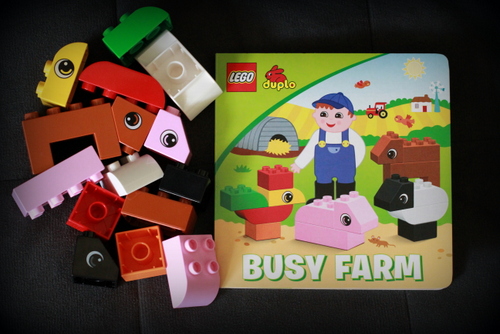 The LEGO DUPLO Read & Build sets come with a short and simple board book and a set of DUPLO building blocks with pieces to build a chicken, pig, sheep, and horse.
Elliot is a new reader and can read many but not all of the words in the story so it's great for him to work on learning new words and practicing reading above his current level.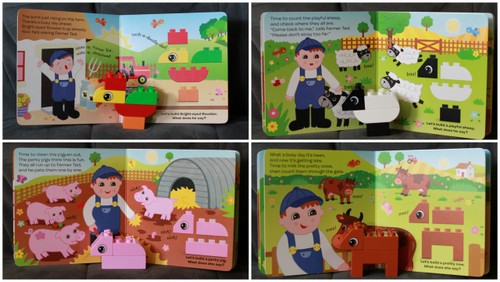 Each page of the story includes a picture of the blocks to use to build an animal, so as you read, the child can listen, look at the pictures, and then build an animal.
Not only is the story fun and engaging, but the picture of how to build the animal is great for kids to learn to follow visual instructions. Figuring out how to make their animal look like the one in the picture by arranging the pieces in the same way is an important and challenging preschool skill – this activity is great practice!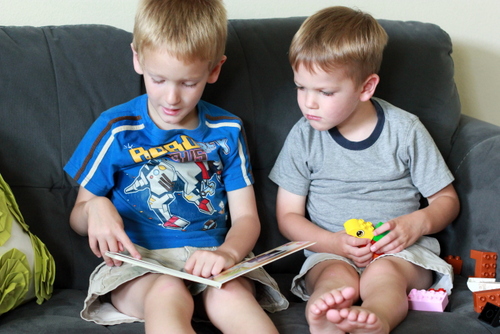 Elliot loves to practice his reading with this book and Gus sits alongside and builds the animals. It's a fantastic learning activity for them both!
So far there are three Read & Build sets: Grow Caterpillar Grow!, Busy Farm, and Let's Go! Vroom! Which is your favorite??? How do you think LEGO DUPLO Read & Build will help your child learn to read? Leave a comment below and you will be entered into a sweepstakes to win a $100 LEGO gift card!
Visit LEGO.com to see other Read & Build sets and order online. Check out BlogHer.com to find other reviews and more ways you can enter to win.
Sweepstakes Rules:
No duplicate comments.
You may receive (2) total entries by selecting from the following entry methods:
a) Leave a comment in response to the sweepstakes prompt on this post
b) Tweet about this promotion and leave the URL to that tweet in a comment on this post
c) Blog about this promotion and leave the URL to that post in a comment on this post
d) For those with no Twitter or blog, read the official rules to learn about an alternate form of entry.
This giveaway is open to US Residents age 18 or older. Winners will be selected via random draw, and will be notified by e-mail. You have 72 hours to get back to me, otherwise a new winner will be selected.
The Official Rules are available here.
This sweepstakes runs from 7/11 – 8/19/12.