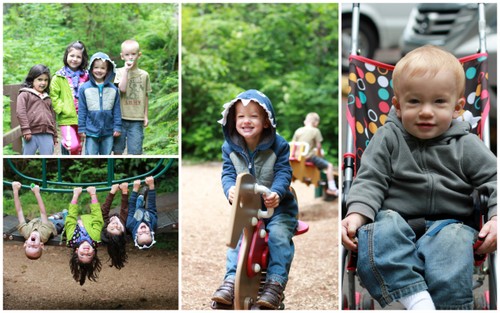 Did you know that July is National Park and Recreation Month?
The theme for 2012 is "Get Wild" and the goal is to encourage families to play outside and enjoy all of the benefits that local parks have to offer. The initiative includes varied programs targeted at inspiring healthy, active lifestyles with activities to help kids appreciate nature and the local environment.
Neighborhood and city parks help to fight the obesity epidemic by encouraging kids to play outside and studies have shown that parks help boost the economy and contribute to the value of surrounding residential properties. Most of all, parks help make a community a safer place to raise a family.
Our family LOVES to be outdoors together, and we particularly love and take advantage of our local parks. As soon as the snow melts and the weather starts warming, we take almost daily walks to our neighborhood park with friends. The kids run and play, getting plenty of fun exercise, sunshine, and fresh air.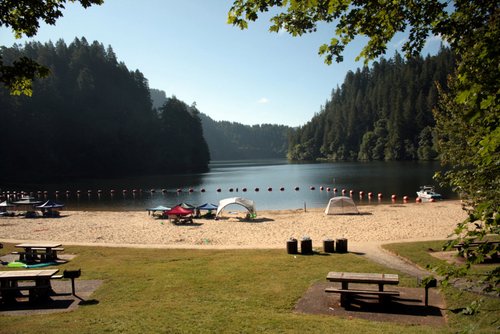 Camping is another great outdoor family activity that takes advantage of local, state, and national parks – our favorite place is Loon Lake in Oregon. Isn't it beautiful!
The National Park and Recreation Association has published a Fact Sheet full of great information to support outdoor recreation. Here are some Health & Wellness facts I found interesting:
Studies have found that on average, children who live in greener environments weigh less than children (at the same age and same sex) who live in less green areas.
Easy access to parks and open green spaces is reported to reduce mortality across one's lifespan.
A 2011 study conducted on Seattle's park and recreation system revealed that Seattle's residents were able to save $64 million in medical costs as a result of participating in physical activity in the parks.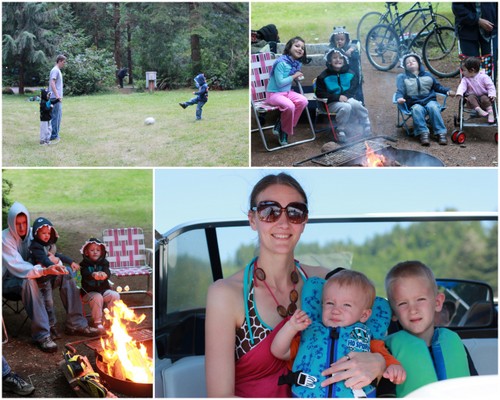 Parks also have economic and property value benefits:
America's State Parks has revealed that in 2009, approximately 725 million visits to 6,000 state parks across the country generated an economic impact of $20 billion for the communities surrounding the state parks. This return on investment is significant given that the annual nationwide budget expenditure was less than $2.5 billion.
In Massachusetts, a study conducted on home sales in seven towns through which two trails run, Minuteman Bikeway and Nashua River Rail Trail, revealed that the average number of days on the market for homes near the rail trail was 29.3 days in contrast to other homes in these towns which amounted to an average of 50.4 days on the market.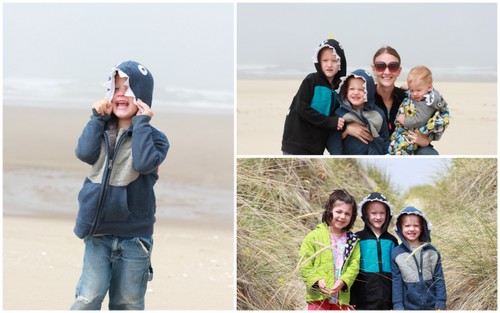 Parks typically are correlated with safer neighborhoods:
The Kansas City Police Department reported that in 2008 crime decreased by 74 percent in Kansas City's Kessler Park when 2.6 miles of Cliff Drive, a state scenic byway located in the park was turned car-free on weekends.
For help finding fun things for your family to do outdoors together this summer, visit the NRPA website and find find a calendar of local events happening across the country, the official toolkit, and information on the Get Wild Geocaching Contest including how to participate in the real-world, outdoor treasure hunting game using GPS-enabled devices.
You can take the pledge to "Get Wild" in your local park and REC areas this July and receive a Facebook badge to proudly display. Explore local park and recreation areas in your community and share your geocaching photos on Facebook to be automatically entered to win one of 5 Magellan GC eXplorist GPS Devices in NRPA's Get Wild Geocaching Contest!
There's still plenty of fair weather left in this season so Get Wild and enjoy your local parks and the outdoors!
I wrote this review while participating in a blog tour by Mom Central Consulting on behalf of National Recreation and Park Association and received a promotional item to thank me for taking the time to participate.