One of my biggest roles as a parent is to help my children figure out what they enjoy and excel in and encourage them to work hard to achieve their goals. That's a pretty big job and it makes me nervous because sometimes I can push too hard and my good intentions backfire. Each child is so unique and figuring out which parenting style will best motivate, encourage, and support each child is so hard! It's definitely a process requiring lots of patience, forgiveness, and trial and error.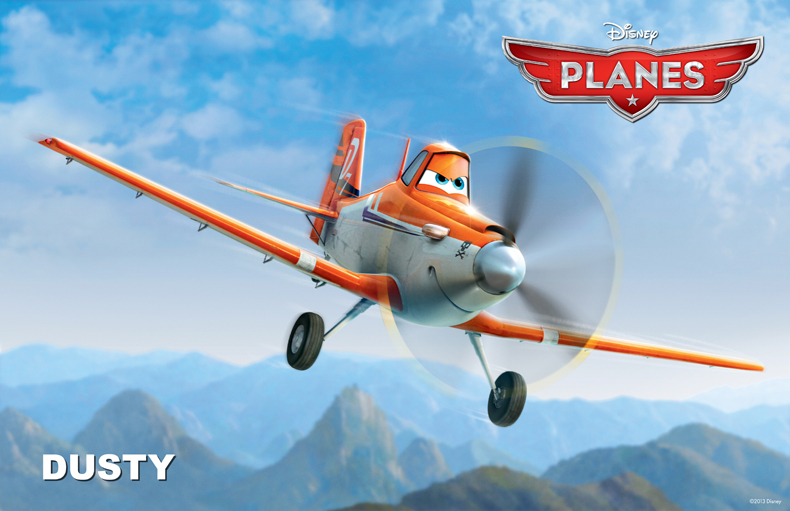 In August, Disney will be releasing a new animated film called Planes. It's about Dusty, a little plane who has high hopes of competing as an air racer…only, he's afraid of heights. He has three friends who each encourage him in different ways:
Dottie, who realizes that Dusty has this drive, but takes the tough-love approach to helping him achieve his goals.
Chug, who sees the ability in Dusty and helps him train through his big, lovable heart, which can sometimes be a little soft.
Skipper (an old pro), who is like a tough football coach and reminds Dusty that if he's going to do this race, he's going to have to do this right.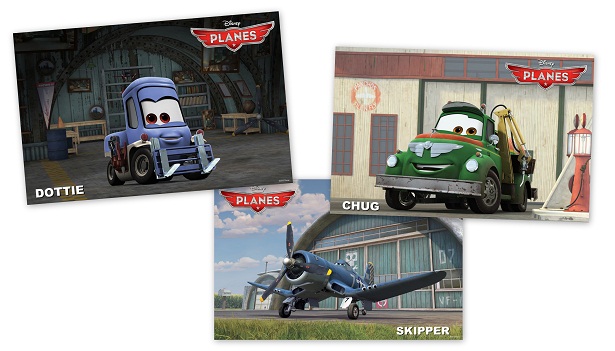 Each of his three friends help him in different ways, using different "parenting" styles and each gives something to Dusty he needs. There's definitely more than one way to motivate and inspire others, including our children. I tend to be a Dottie to my kids and encourage realistic goals. Sometimes, instead of just listening and encouraging and believing in my kids, I can be a bit of a dream killer because I want them to be realistic. It's important for my children to honestly and accurately know their abilities and set their goals accordingly. I want them to be the best they can be, set their goals just barely out of reach, and know that if they work hard and persist, they can do it! However, once we establish the goal, I turn into more of a Skipper. If they're going to set this goal, I will push them and encourage them to do it right and all the way to the finish. Different children require different strategies, and the same thing won't work all the time. Sometimes we have to switch styles from tough football coach like Skipper to a relentless cheerleader and friend like Chug. Our kids need each us to be each Dottie, Chug, and Skipper at different times, and I can't wait to see how each of them help Dusty achieve his goal of competing in an international air race! Most importantly, we can teach our kids to work hard and they will always reach their dreams and have courage, just like Dusty. We can turn our little single-prop planes into high-flying heroes. How do you challenge your children to follow their dreams? 
Leave me a comment and you will be entered to win a $100 Fandango.com gift card.
Rules:
No duplicate comments.
You may receive (2) total entries by selecting from the following entry methods:
a) Leave a comment in response to the sweepstakes prompt on this post
b) Tweet (public message) about this promotion; including exactly the
following unique term in your tweet message: ""#SweepstakesEntry""; and leave the URL to that tweet in a comment on this post"
c) Blog about this promotion, including a disclosure that you are receiving a sweepstakes entry in exchange for writing the blog post, and leave the URL to that post in a comment on this post
d) For those with no Twitter or blog, read the official rules to learn about an alternate form of entry.
This giveaway is open to US Residents age 18 or older. Winners will be selected via random draw, and will be notified by e-mail. You have 72 hours to get back to me, otherwise a new winner will be selected.
The Official Rules are available here.
This sweepstakes runs from 7/15 – 8/12.
Be sure to visit the Disney Planes page on BlogHer.com where you can read other bloggers' reviews and find more chances to win!