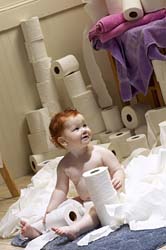 Paper is one of the best toys for babies 9-18 months and even older. You have to make sure they don't eat it, but little kids love to tear paper! When we are in the car and Joel is miserable, all I have to do is give him a piece of paper, and he'll be totally engrossed for the rest of the trip.
If the paper is thick, I will start the tears for him and let him give it a good rip. Magazine paper is probably the best for tearing, especially those little Reader's Digest magazines. They are just the size for little hands. Napkins are also easy to tear. And toilet paper!!! Sometimes if I really need 10 minutes to get something done, I'll give Joel a long piece of toilet paper. It's a life saver!
So add paper to your child preparedness kit – never leave home without it!