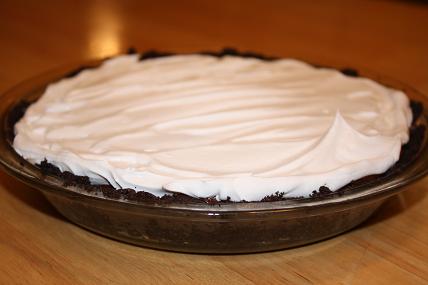 This is one of the pies I'll be making for Thanksgiving on Thursday – a Double Chocolate Mousse Pie (recipe from my friend Erica Miller and who knows where else it might be found…I don't know where it's originally from.)
This pie is super easy and delicious – I've tasted it. Yum. I don't think chocolate pudding in a pie crust can actually be called "pie," much less "chocolate mousse pie." It's chocolate pudding in a pie crust. Although this isn't real mousse either, it is delicious and rich enough to bear the name.
_______________________
Double Chocolate Mousse Pie
1 Oreo cookie crust (prepared or homemade)
1 – 8 oz. package cream cheese
1 – 12 oz. package semi-sweet chocolate chips
1 – 16 oz. package whipped topping
Melt the chocolate chips and cream cheese together. Spread 1/3 mixture on the pie crust. In the remaining chocolate/cream cheese mixture, fold in all but one cup of the whipped topping. Spread onto pie crust. Spread remaining whipped topping over the top. Garnish with grated chocolate (or not). Chill until served.
_______________________
This pie looks beautiful also, as you can see each layer. And it's very rich, I'm warning you. Dish up a small piece, especially if you want to taste multiple pies.
Your kids can help crush the Oreos if you're making your own pie crust or stir the melty chocolately mixture. Teach your kids how to make delicious pies so they can carry on the pie tradition into their own families.
Coming tomorrow is my grandmother's famous Cheese Pie recipe. It's the pie that makes Thanksgiving for me. It's one of those comfort foods that reminds me of home and brings back many holiday memories with my family. Until then…
_______________________
Pie Making Series Part I: The Pie Crust
{photo taken with a Canon Digital Rebel XSi}