I've never used packaged die cuts until this week, and I'm a new fan. I got the summery/travel Citronella package from K & Company and have loved using it because it makes my pages go lots faster. Having all the designs and colors already done for you makes choosing a color scheme lots easier to because you start with something to work around.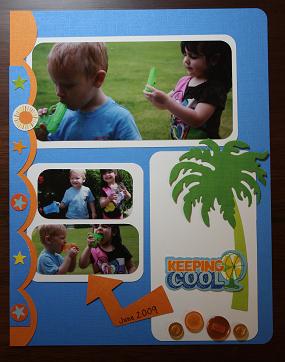 I came up with this simple page (that still needs journaling), and I love how easy it was to slap some of the die cuts on there. The double border on the left side is made with another Ek Success edger punch. (I went to Michaels yesterday and saw that there are some new edger punches out from Ek Success, and they're beautiful!)
I would definitely say that using packaged die cuts are a great way to save time and create your pages faster. Sometimes I don't want to have to think about what kinds of embellishments to use, and it's nice not to always have to.
I also got the Citronella journal pad with tons of cute little journaling cards that I can't wait to use. I'm still a little afraid to use my own handwriting on my pages, but I'm going to try and get over that and use this journal pad. My handwriting is all part of the whole essence of my life that I'm trying to scrapbook, right? Right…
What products do you use to speed up your creativity?