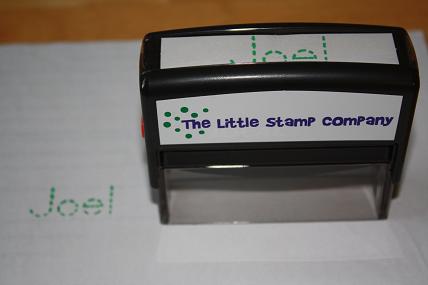 If your child is getting ready to learn to write, you should definitely check out The Little Stamp Company. They make personalized name stamps with water based washable ink that will help your child learn to write his or her name by tracing. You can completely personalize your child's stamp with their name, your choice of font and print type (upper case, lower case, or dotted). Kids can stamp their own name on their coloring pages, books, and much more – kids like to see their names on stuff, and this is a great and fun way to let them label their things themselves.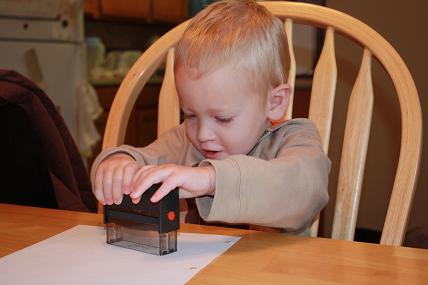 One of my favorite features of this product is that the ink pad is built into the stamp so you don't have to worry about your kids making a mess with the ink. My 19-month old can use the stamp himself and there's no mess! He loves using the stamp and seeing his name magically appear.
My son isn't ready for writing yet, but seeing his name in print will definitely help when the time comes. So much of reading/spelling is memorization, so the earlier we can start introducing him to the look of his name, the easier it will be for him to learn to read and write it.
Now you can help your child learn to print his name without having to manually draw the word for him to trace. Thanks to The Little Stamp Company, he can stamp the name and practice tracing it all by himself. With Christmas coming up, this would be a great gift!
The Little Stamp Company also has a blog, Big Ideas for Little Printers, where they talk about fun and easy early literacy tips and activities.
{photos taken with a Canon Digital Rebel XSi}