The big move is over!
After spending the majority of our married life in a little townhome, my husband and I and our children just moved into our new house with our own yard and no shared walls!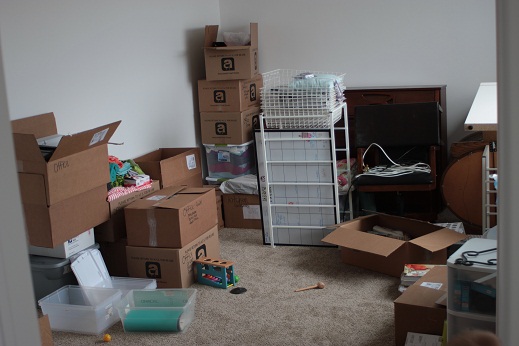 I am SO glad I had my Brother P-Touch labeler for all the packing, moving, and unpacking of the last few days and I've used it nonstop to organize while we get settled in. I want to start off life in this new house organized and keep it that way forever.
The kitchen is mostly put away and I should probably move on to bedrooms next, but I have been plotting and dreaming about my new office for nearly a year now, and I just couldn't wait any longer to get my office unpacked, assembled, and organized.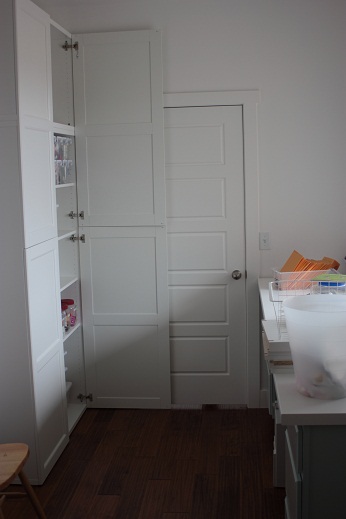 I'm nowhere near finished and this picture is of the very beginning stages of putting our office together. We'll have cabinets all along the back wall with a desk along the other with plenty of storage space to organize and label everything.
We designed our office to be a long rectangular room to use up the least amount of square footage but get maximum storage space. So we're working on putting cabinets up along one wall and a 15′ desk on the other wall – plenty of room for everyone to have their own desk space.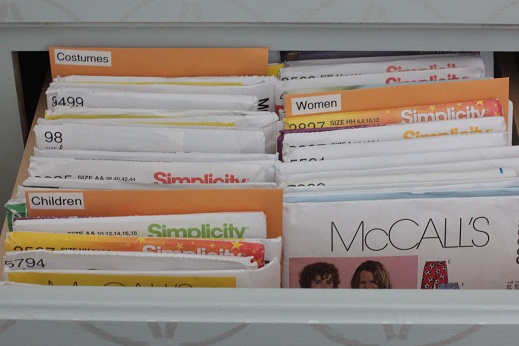 As I packed everything up and saw my whole life before me in boxes, I realized a very large percentage of our stuff came from our office. In this new and larger space, my Brother P-Touch is the key to making sure all my craft/office/hobby/school supplies are organized and easily accessible.
We painted and stenciled some kitchen base cabinets for our desk (a post on that fun project is coming soon…) and this bottom drawer is the perfect spot for my patterns. I organized them and labeled dividers to categorize my patterns so I can find what I'm looking for a little easier.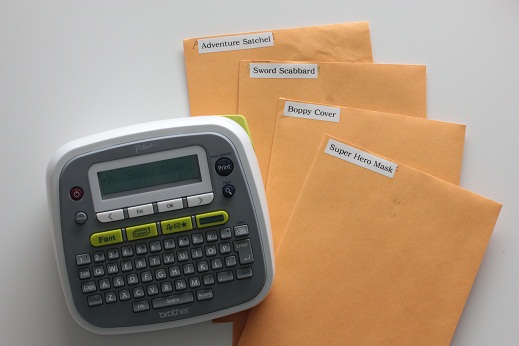 I've accumulated quite a few PDF patterns over the years and have started storing them in these 6×9 clasp envelopes. I was handwriting the label on the envelope, but using my label maker looks so much cleaner.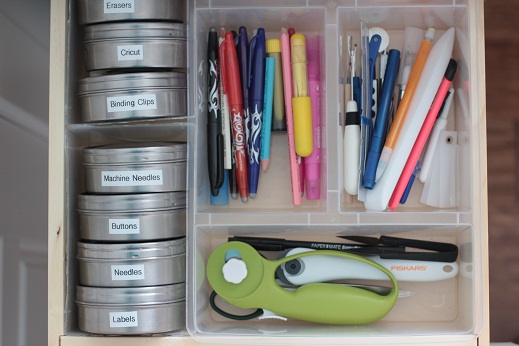 The top drawer is where I'll be storing all my most frequently used sewing supplies – scissors, tools, marking tools, and miscellaneous supplies.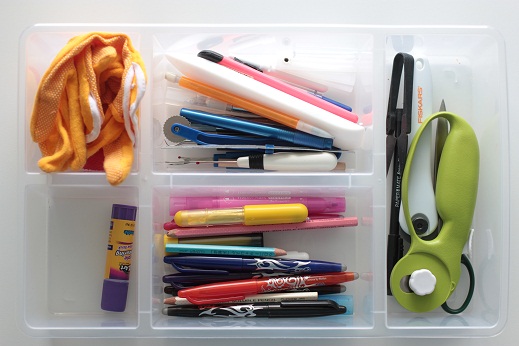 I purchased two of the Antonius basket inserts from IKEA – one fit in the drawer with some extra space on the sides so I cut apart the other to fill in the extra space on the sides.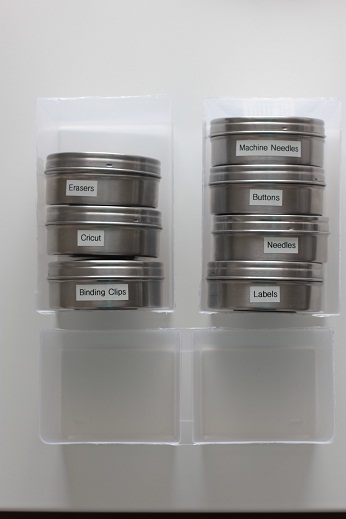 It's hard to tell in this picture, but I cut each section apart and can now use them to fill in smaller drawer spaces. The little silver magnetic containers are also from IKEA – they have glass lids, but storing them stacked sideways is more space efficient and they're labeled so I know what's what.
In our old home office, all this stuff took up a whole lot more space – fitting everything in that one little drawer has been so fantastic, leaving wall and additional drawer space available for other supplies.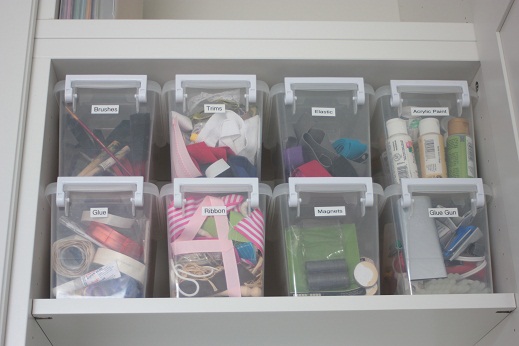 So far I've gotten some smaller containers organized and labeled to store in the wall cabinets. I love using uniform containers and with labels, everything looks so organized and is easy to find, use, and then put away.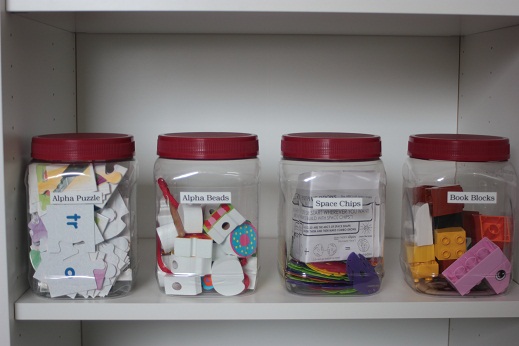 I've been saving these little containers from Costco and have found a perfect use for them! My kids always tag along wherever I go, so having some little toys stored in the office will give them something to do while I work. I filled these containers up with little toys, labeled them, put them on a low shelf and…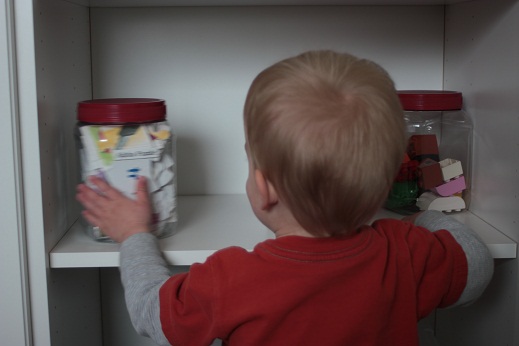 …Linus found them straight away and got busy playing!
I still have a long way to go before my office is completely assembled and organized, but so far my Brother P-Touch labeler has been indispensable. I don't feel truly organized until everything is labeled and the Brother labeler is so easy to learn and use in every room in the house.
I have loved trying out the different sizes, fonts, and styles the Brother P-Touch label maker has to offer, and I am looking forward to crafting, creating, and working in my perfectly labeled and organized new space!
Keep up with Brother on Facebook and get started on your big organizational makeover!
I wrote this review while participating in a campaign by Mom Central Consulting on behalf of Brother P-Touch and received a product sample to facilitate my review as well as a promotional item to thank me for my participation.