As hard as dinner is, sometimes lunch is harder, especially when it has to be on-the-go. How do you put together home prepared, healthy, fresh lunches to eat on the road?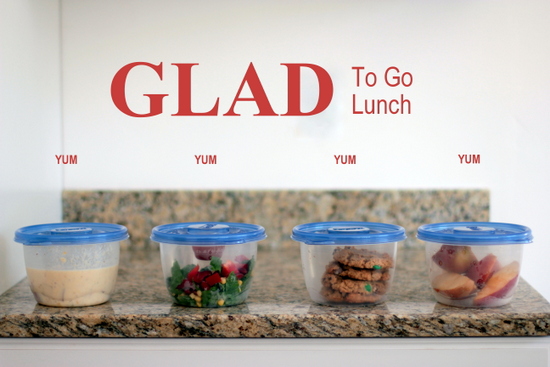 Well, you no longer have to pack only food that will fit in a sandwich baggie. With Glad To Go Lunch containers, you can take anything you like and have it fresh and ready to heat and eat.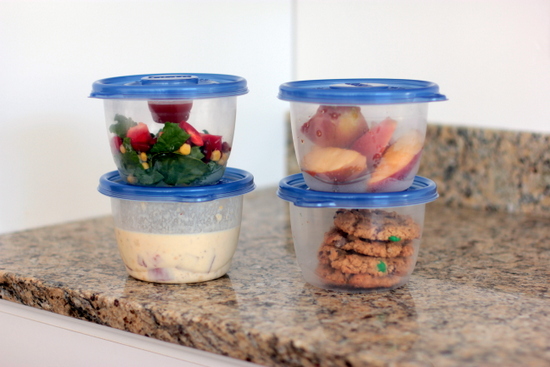 The package comes in a set of 4 containers, and each bowl and lid are BPA-free.
Each container is 32 oz, so packing leftover dinner for lunch tomorrow works great. The containers fit a ton of food and with the signature Glad interlocking lids; they're the perfect size and shape for stacking in the refrigerator overnight or until lunchtime.
When we're taking lunch on the go in a backpack or diaper bag, we appreciate the super tight seal that locks in the freshness and prevents spills.  No more lunch-soaked diapers or books for us!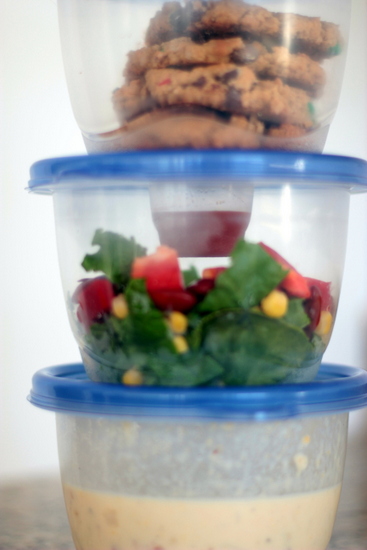 My very favorite thing about the To Go Lunch containers are the 1.5 oz. dressing cups that snap onto the undersides of the lids. Two containers, only one lid!! I wish all my food containers were like this… A conveniently separate-but-connected dressing container means NO MORE SOGGY SALAD! My life is complete.
As much as I love these tight-locking, stacking, dressing-friendly lunch containers, not all foods belong in a bowl. For all of those foods, there's Glad Cling Wrap.
A sandwich belongs wrapped up tight in some Glad Cling Wrap where it will be safe from moisture sucking air. There's nothing worse than a dried out sandwich except for a sandwich that has completely fallen apart. Cling Wrap is the perfect little sandwich straight jacket – all those tomatoes and avocado slices stay right where they should be until that sandwich is ready to fill your tummy.
Cling Wrap is also great for keeping lunch outside from feeding the neighborhood insect population. Glad Cling Wrap grips tight to keep the fresh and warm in and everything else out. It's perfect for keeping food fresh and clean during a sunny day picnic.
Glad products are affordable, multi-purpose, and most importantly, reliable. I know my food is safe with Glad and that makes me…very glad.
GLAD PINTEREST CONTEST
Go to www.glad.com/food-storage/mom-made/pinterest/ TO INSPIRE YOUR LUNCH WITH GLAD. Create your own Pinterest board for a chance to win weekly prizes.
Timing of the Pinterest Board Contest: 3/18 – 4/28
How to enter the contest:
Step 1: Click the Glad photo in the gallery ( Glad Pinterest Board Contest ) that most inspires you to get started pinning.
Step 2: Choose "create new board" in the dropdown menu of the Pinterest pop up screen. Title your new board "Inspired Lunches"
Step 3: Find at least 4 photos anywhere on the web that fits the theme of "Inspired Lunches" and pin them to your new board. Include #gladinspiredlunches in your photo description.
Step 4: Once you've pinned 5 photos (including one from the Glad Pinterest Gallery) come back to (Glad Pinterest Board Contest ) submit your board.
If you make a pinboard in the Glad contest, share your pinboard URL in the comments—I'd love to see what you've done! In addition, I'm always looking for inspiration so tell me how you make your inspired lunches.
Visit Glad's page on BlogHer for more ideas!