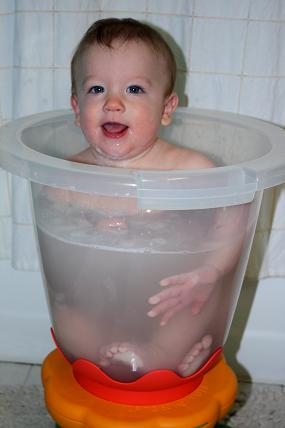 The Tummy Tub was one of last week's Black Friday giveaways, and I think it's one of the greatest newborn products around. Bathing is one of my least favorite things about having a newborn because it's hard to keep them warm and comfortable in traditional baby bathtubs.
The Tummy Tub is so great because it simulates the womb and is a familiar environment for a baby – it's wet, warm, and kind of cramped! It helps babies to make the strange transition from being in to being out.
It's so easy to fill up with water because it's just like a bucket. It's easy to carry when full and doesn't spill out everywhere. It's also just the right size and shape to fit on the table or in the kitchen sink so you don't have to bend over and kill your back.
And it uses very little water. We fill ours up about 8-10 inches – that doesn't seem like it would be enough, but when you put baby in there, the water level  raises up to mid chest which is perfect.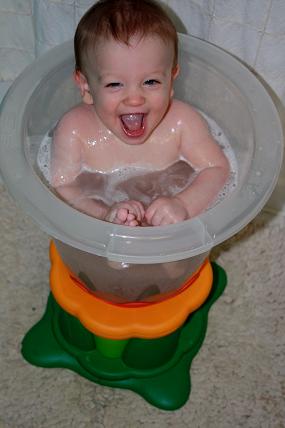 Gus loves it, as you can  see! He's almost 7 months old and we still use the Tummy Tub because he can sit up and even play with toys in it. He just hangs out and will stay there for 15-20 minutes very warm and happy.
We also got the stool to review, which I absolutely love. It is shaped like a little toadstool flower thing and is just so darn cute! And I love all the color combos, but the multi color one is my fave. It is just so bright and happy!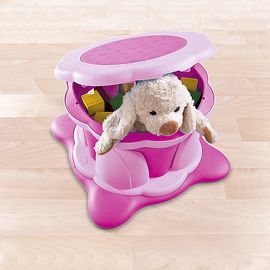 The great thing about the stool is that it is multi-function. It serves as a stand for the Tummy Tub which is awesome. I can put the Tummy Tub on the stool and it's just the right height when I'm sitting on a regular chair so getting him all washed and rinsed is comfortable.
It's also a storage bucket, perfect for bath toys and soap, or anything else!
And lastly it's an adjustable step stool. You can twist the storage part 45 degrees to fit it down in between the pedestals for a lower stool or set them on top for a higher one.
Bath time is so much easier and more fun with the Tummy Tub. I hope Gus doesn't outgrow it too soon!
{This product was provided to Vanilla Joy for review purposes.}