When babies turn 1, they are usually walking and getting into everything, curious, and much better at using their hands. Toys that require hand-eye coordination are excellent because 1 year olds are working on mastering their movements. Toys with music and lots of bright colors are also great. Still watch out for small pieces because 1 year olds still put everything in their mouths. Here are some of my favorite 1 year old products.
1. Fisher Price Laugh & Learn Piggy Bank

Grandma bought Joel this for his first birthday, and two months later he still plays with it! Music plays each time a coin is put in the slot – on one setting it sings songs and on another it counts how many coins you've put in. This toy is great because of the music, bright colors, counting, and animals. And it works for boys because pigs are pink!
2. Fisher Price Roll-A-Rounds Swirlin' Surprise Gumballs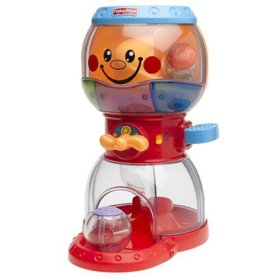 I bought this toy for Joel at Deseret Industries, a thrift store, for $2, and it has been worth every penny! This toy requires the roll-a-rounds balls, which my son loves. He throws and rolls them all day long. A 1 year old baby can put the balls in the top and understand that they come out the bottom, but it's a process of discovery that is exciting to watch! This toy also has bright colors and fun music.
3. Alphabet Magnets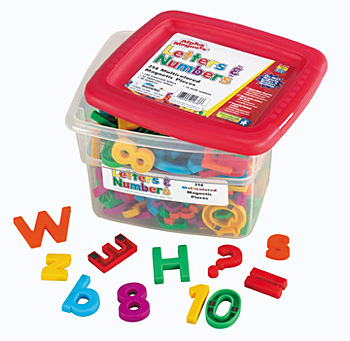 We actually don't have any refrigerator magnets yet, but Joel discovered them at a neighbor's house and played with them for almost a full hour. Babies love magnets because they are like magical! If you don't have alphabet magnets, regular ones will do as long as they are too big to fit in the mouth.
4. Fisher Price Peek-A-Block Shape Sorter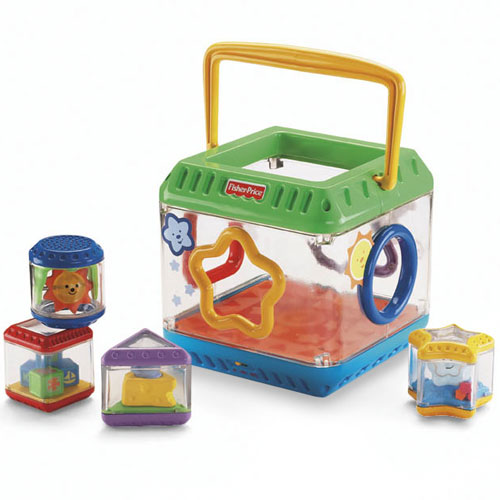 This toy took my son a while to understand. I had to help him fit the blocks in the holes at first, but now he can do it all by himself. Shape sorters are a toy that require a certain level of development. Once they get there, babies love shape sorters because you put them in and take them out, over and over and over. There are tons of different shape sorters out there. I like this one because it plays music and has a handle.
5. Playskool Poppin' Pals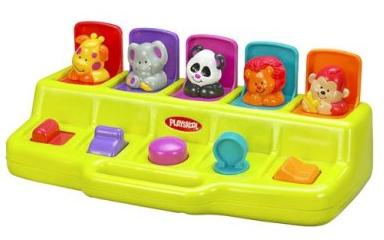 This one was another one that took some growing into. I would push all the buttons to make the animals pop up and Joel pushed them down. Gradually he learned how to do a few of them. These kinds of toys are great because they are a happy surprise! Kids love toys that they get to act upon to make them do their thing.
6. Fisher Price Peek-A-Block Press & Go Train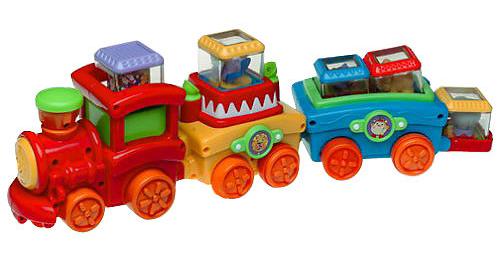 Moving parts are always fun for babies, and this train moves along the floor and plays music. Each car can hold a peek-a-block, and the first and third cars move the block up and down as the train goes. If you can stand the song this toy is great.
7. Safety First Cupboard Locks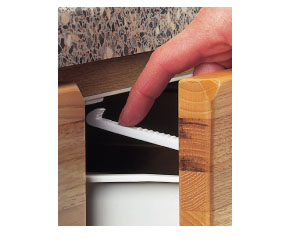 One year olds are increasingly mobile and thus increasingly dangerous to themselves. Safety First makes great inexpensive and effective baby locks to keep babies out of the cupboards and drawers.
8. Gerber Graduates Soft Spout Sippy Cup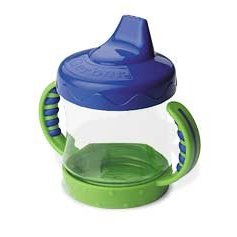 I looked long and hard to find a sippy cup that didn't leak. This cup made by Gerber is awesome because it's easy to suck the water out but doesn't leak at all. It also has a fun shape – Joel mostly likes to play with this one rather than drink from it. We're still working on it.
9. Gerber Graduates Lil Snackin' Bowls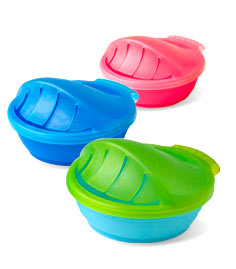 Finally, these snack bowls are great because they allow baby's hand in but don't allow the contents to spill when it gets held upside down or thrown on the floor. These take some getting used to for babies, so be patient. I love to take some snacks in this bowl when we go shopping so he can eat without making a mess.
As Joel gets older and I find more products that I love, I'll let you know!