I'm really getting into making cards lately. I even considered totally giving up scrapbooking and sticking with card making. Do you know why? Because a card is a one time, finite project. Finite is pretty appealing to me right now with all the scrapbooking I'm not doing. With cardmaking, you can never feel behind!
And remember that Cricut contest we had? Well I use mine ALL THE TIME for cardmaking (and scrapbooking, when I get around to it). Here are some of my favorite Cricut cards that I am so proud of.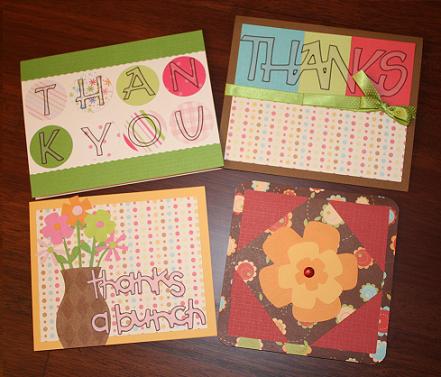 My favorites are the top two. I love using the Cricut Colors to ink the edges, which I did on vellum for the letters in those top two cards. I used the George & Basic Shapes for the letters.
I also really like the "Thanks a bunch" one, which I also used the Cricut Colors on. I love all the flowers and pretty things in the "Walk in my Garden" Cricut cartridge. Another favorite.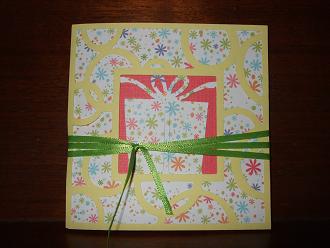 When I'm short on time, I opt for the premade card variety in the "Stretch Your Imagination" cartridge. Each picture has its own card design that goes with it, and you can make the square card any size you want. This is a great option for last minute things and also if you need to make a bunch of cards quickly.
I'm pretty proud of my new cardmaking hobby. Before I got my own Cricut, I got to use my Grandma's when in Oregon for vacation but I always stuck to scrapbooking. Cardmaking is a new favorite Spare Time thing to do, and the Cricut makes it so fun and easy! The next thing on my list is the Cuttlebug by Provo Craft. I LOVE their embossing dies. I could also really get into embossing. Read my review about the cuttlebug machine here.
Anyway, if you don't have a Cricut, Christmas is coming. I know it's not made by an Etsy seller, but they are really handy and wonderful to have. It's funny – our 11 year old neighbor came over to use the computer the other day and was blown away by my Cricut. My husband pushed the little button to open it up and show him, and he was just in awe. After watching the doors slowly fold open, he asked if the Cricut had made my awl. Boys…so silly. Isn't that hilarious? The Cricut can do many things, but making an awl is not one of them. Anyway, Christmas is coming and the Cricut has come down in price and they do go on sale, so save your pennies and tell Santa what you really want!