In my house as a kid we had what we called "Blue Jobs" – things like filling the wood box, changing the oil in the cars, etc. "Pink Jobs" existed too, but those are trickier. Maybe picking the fat off the meat – men seem to be squeamish about those sorts of things, at least my dad was! My husband just doesn't care, so I guess these things are relative.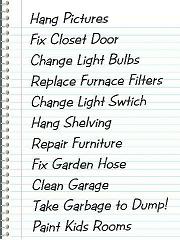 I am very meticulous about pointing out Blue Jobs in our household. For me, Blue Jobs are really anything that I don't want to do; not that I can't, I just would rather not. Taking out the trash, for example, filling the car up with gas, using a drill, and many other things that I can't remember at this moment. When something comes up, I'll be sure to edit this post.
My husband doesn't always appreciate my selective and arbitrary use of the Blue Job designation; however, designating tasks as Blue or Pink always has and always will be my favorite Pink Job.