{The winner of the Travelmate Scrap Tote is Adele! She said, "I love the mod dots shoulder tote. Adorable and I think it fits 12 x12 paper. Cute!"
Email your address to kelsey[at]vanillajoy[dot]com to claim your prize. CONGRATULATIONS!}
We're starting the weekend off with 2 more giveaways today! And today's giveaways will suit both fabric and paper people!
THE PRIZE
One reader will win a Lilac/Chocolate Travelmate Scrap Tote ($54.99) and a 4×6 Photo Organizer ($6.99) from Mimi Collections.
REVIEW
If you've been a Vanilla Joy reader for any time at all, you know that I am a sucker for bags, boxes, and containers of any kind. I just love putting all my stuff in pockets and pouches!
Well, a scrapbooking tote is a new kind of bag for me,and I have to say that I am in love with the Travelmate by Mimi Collections because it's
pretty
sturdy
comes in 5 different colors
full of pockets, and
BIG
All the things a craft tote bag should be.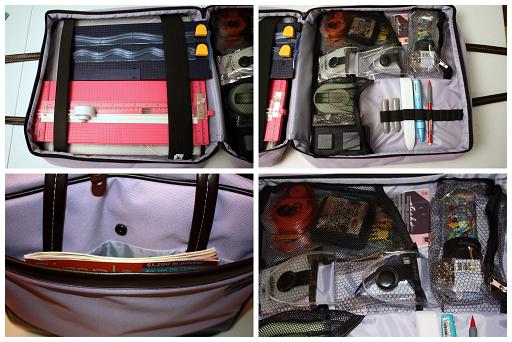 I love scrapbooking with other women, and getting my stuff from here to there has always been a huge pain with lots of close calls. Of all the scrapbooking totes out there, I wanted to feature The Travelmate by Mimi Collections because it is the perfect size and shape for all your crafting supplies.
The top two pictures in my collage are of the bag completely open. The left side comes with a 12×12 paper organizer, big and sturdy enough to transport all that precious paper safely with the two secure straps. And there's room left over for other large items like paper cutters, even the EK Success Cutterpede rotary cutter that has a pretty tall blade case.
The other side (detail photo is on the bottom right) has several pockets and pouches for smaller tools and supplies. I was able to fit everything I needed with room to spare. Towards the end of my packing, I was trying to think of more stuff to take to fill up the extra space! I have my Cuttlebug embossing folders, Glue Dots, EK Success stickers, Creative Memories Shape Makers and Corner Rounder, ink, and hard embellishments. All that stuff and there's room for more!
The bottom left picture is of the pocket on the front of the bag. It's deep enough to completely conceal my Simple Scrapbooks magazine, Cards magazine, and photo organizer with 3 mesh pockets for even more stuff. I left those empty because I couldn't think of anything to put in them!
This bag is easy to work out of once you get where you're going. I have easy access to everything I need without having to unload it all like I did before the Travelmate.
And if you sew instead of scrapbook, you can take the paper organizer out of the left side and use it to hold your fabric with all your little tools and supplies in the pockets on the right.
This craft tote is perfect for any hobby, for walking across the street to your girlfriend's house, or as a carry on when flying (just be sure you check anything sharp…). I'm going to be scrapbooking away from home much more often, I think…
GIVEAWAY GUIDELINES

Visit MimiCollections.com and browse their products.
Come back here and leave a comment sharing your favorite product before midnight Tuesday, March 24.
A winner will be selected and announced at the top of this post on Wednesday.
Only one comment per person unless you earn extra entries.
Giveaway open only to residents of the continental United States…sorry.
EARN EXTRA ENTRIES
You may earn 1 extra entry each for doing any of the following (5 total extra entries possible). You must leave a separate comment for extra entry.
Blog about the contest with a link back here
Subscribe to my feed
Sign up for my newsletter
Add my button to your sidebar
Comment on any non-contest post (must contribute to the conversation)
GOOD LUCK and THANKS, Mimi Collections!