I've been busy crafting with all that great EK Success stuff – I absolutely love that daisy punch! Here are some fun things I have done with it so far: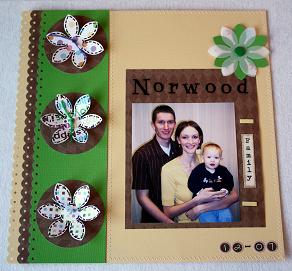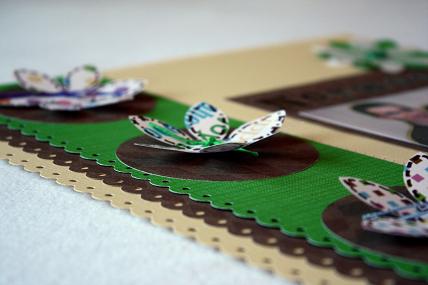 (Tools: EK Success Cutterpede, Fastenater, XLarge Daisy Punch, Provo Craft's Cricut, Fiskars border punch)
I love flowers on my pages, and I don't get to use them that much because I scrapbook mostly about my son. Since this is a family picture, I figured I could make it as girly as I wanted.
Once again, I love the size of the Daisy punch – it's just right. And the EK Success decorative staples (applied with the Fastenater) were just right to set off my word sticker.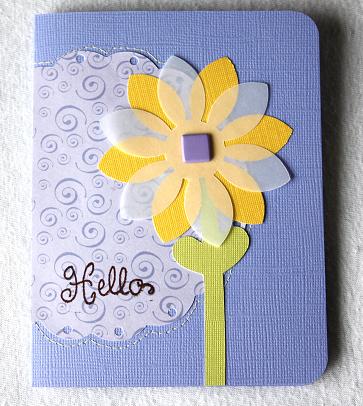 (Tools: Crafter's Companion, Fiskars clear stamp, Provo Craft Cricut, EK Success XL Daisy Punch, Making Memories Tool Kit II)
I use flowers on my cards always, probably because I don't get to use them that much in my scrapbooking. One thing I love to do is layer offset vellum flowers over paper flowers and secure them all in the middle with a brad. I did this in both the card and the page above – in the page above I did two different colored paper flowers and then a vellum one on top. The vellum takes the edge off and makes the colors blend in and look more subtle.
____________________________________________________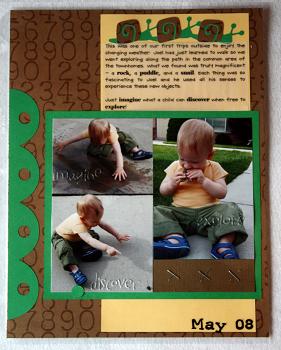 (Tools: Provo Craft Cuttlebug (Explore), Provo Craft Cricut (Accent Essentials, Walk in my Garden))
And I tried something new last night with my Cuttlebug – embossing right on my photos, and I love how it turned out.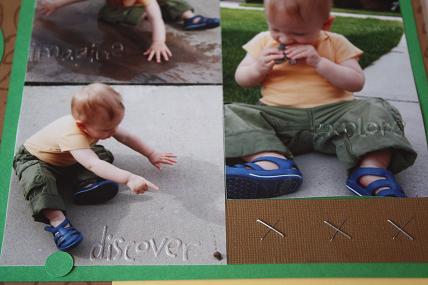 Here's a closeup – I wanted to incorporate those words into my page, but wasn't sure how to do it. Embossing right on the pictures was the perfect solution. I love the "Explore" package of embossing folders, which include these three words (explore, imagine, and discover) and then a 4th of a little boy with a dinosaur. It's the perfect little boy set.
____________________________________________________
Keep earning those extra entries for these two giveaways – they're goodies!
{photo taken with the Canon Digital Rebel XSi}