I just got back from a quick trip to LA to visit my sister AND visit the Fashion District. I hated LA but I might be willing to live there for the fabric.  I came home with plenty of fabric (mostly knits) to experiment with and develop some rockin' patterns and tutorials. I'm going to start working on my first pattern/idea tonight!!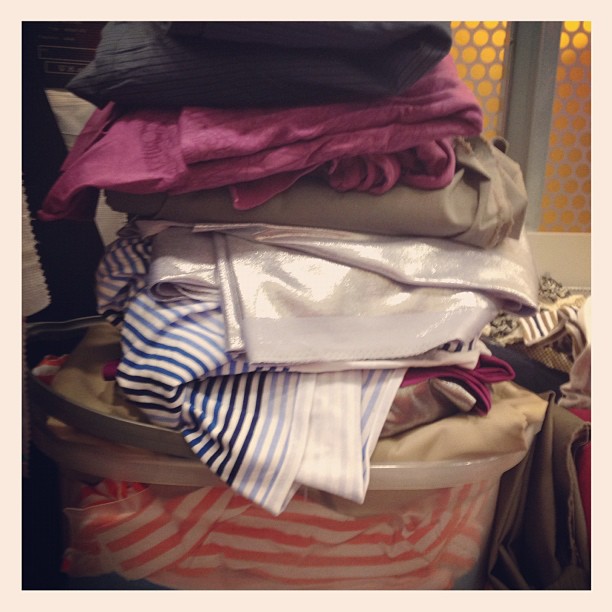 Our first stop was to the FIDM Scholarship Store and we went there three times in four days. It was AMAZING.
The back of the store is a wall of fabric that is $1 a yard. Most of the $1/yard stuff is knit and there are dozens and dozens of colors, styles, weights, textures, fabric contents, etc. I found stripes, solids, sheers (those are $5/yard and they also have upholstery weight for $2/yard).
I bought yards and yards and yards…I  couldn't help myself! $1 a yard!!!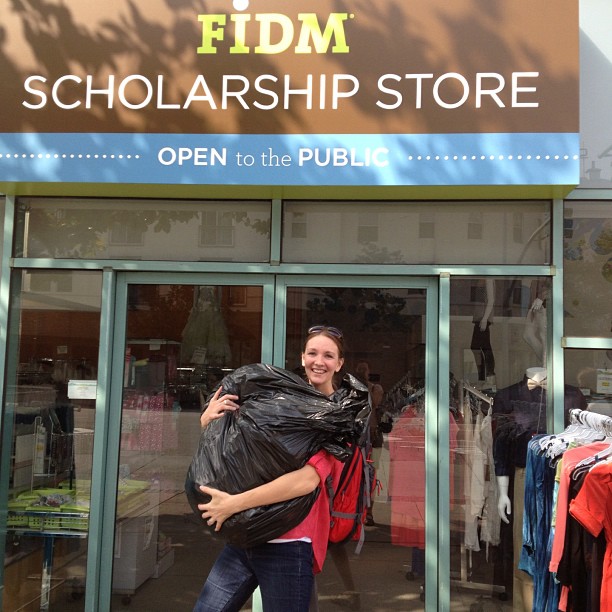 My first garbage sack full from our first visit. So cheap!
After FIDM we went to the heart of the Fashion District and…honestly I wasn't terribly impressed. There were tons of shops, but most of the shops carried the same stuff, at least where we were. The selection was amazing for things like minky and other specialty fabrics (swimsuit lycra,  satin, tulle, chiffon, etc.) but from store to store the selection didn't differ very much.
The upholstery fabrics were hideous – I found only one upholstery weight print in the dozen shops we went in I liked, until I got to the Michael Levine upholstery shop. There were lots of things there I loved but they were not bargain prices!
I didn't have specific projects in mind and I was really only looking for great bargains. They did have tons of specialty type fabrics, so if you go and need that sort of thing make a list! It's very easy to get distracted and lose your sense of purpose…
We couldn't possibly cover the entire District in the amount of time we spent there (maybe if I had been by myself but I had sisters and a baby holding me back…:) and I never did find a notions shop – I really wanted to find patterned elastic, twill tape in every shade of the rainbow, etc.
I wish I had gotten more serger thread. We found a shop that carried 6000 yard spools of serger thread for $1.50 each in dozens of colors. I only bought white – what was I thinking?!?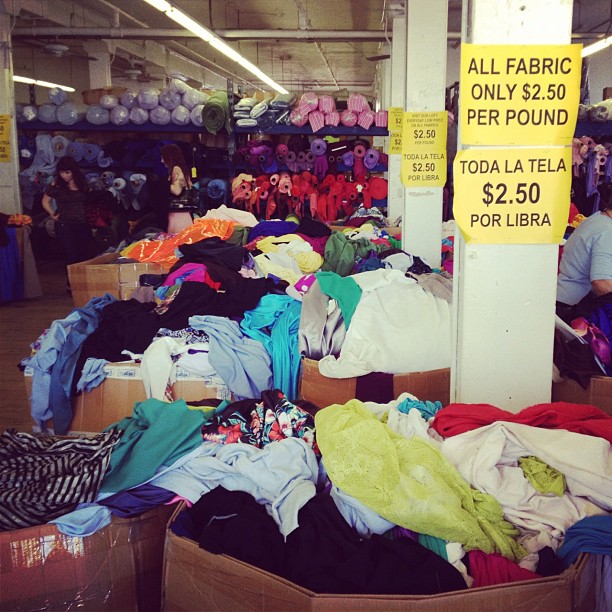 Besides FIDM, I only purchased fabric at two other shops – Michael Levine and The Loft (Michael Levine's Upstairs).
Michael Levine was our last stop on our first day and we were tired so I didn't browse as thoroughly as I would have liked.
We hit The Loft twice – the first time I found one thing and the second time I found lots of things! Fabric is sold here by the pound – $2.50 per pound which was pretty cheap for most things. I got some sheers that worked out to be less than $1 a yard and a few knits that were about $2 a yard.
But it's a nightmare – look at that mess! Finding anything at all was a miracle, but I was determined!
I think my expectations were too high – I had hoped to find $1/yard knits in all the colors and prints imaginable, but that price is only for the left overs. I was so disappointed not to find more modern upholstery weight fabrics (bold stripes, etc.) – I would have been willing to pay for those!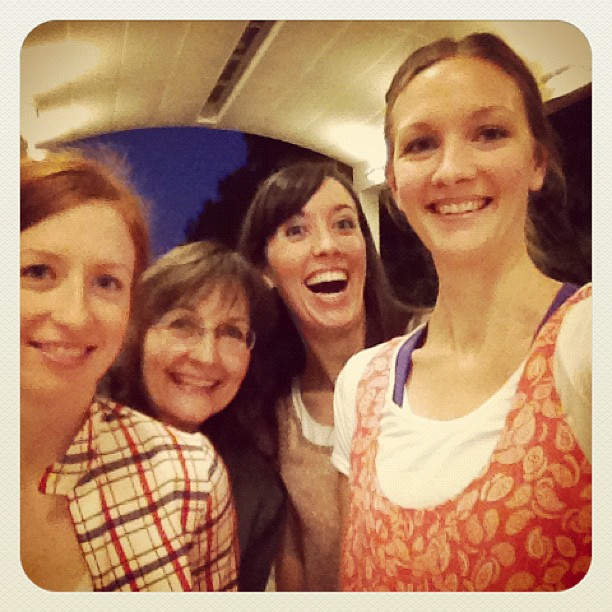 Besides fabric, we visited the Getty. You park and take a tram up the mountain to the museum – it was beautiful and so serene to be up and away from all the traffic and noise.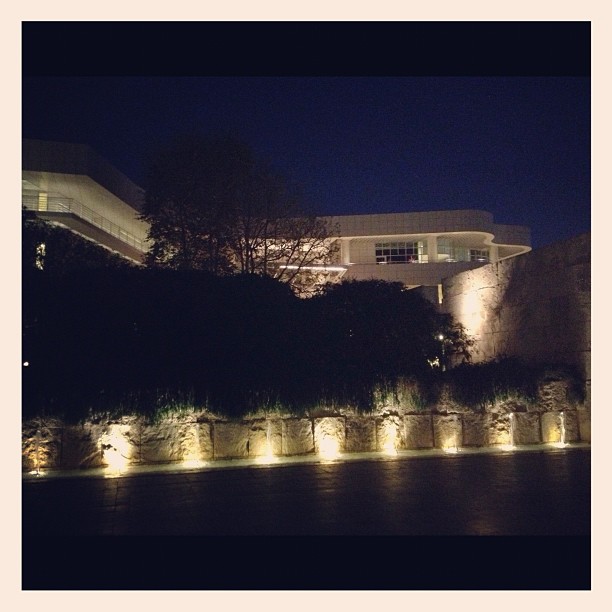 We mostly looked at the paintings – we didn't stay long, I left my nursing baby (well, he's 14 months old but still nursing and my baby!) and it was late and I was near to exploding.
Here's what I came home with:

Stripes, solids, suitings, sheers, and spandex/lycra.
I've got a lot of work to do!