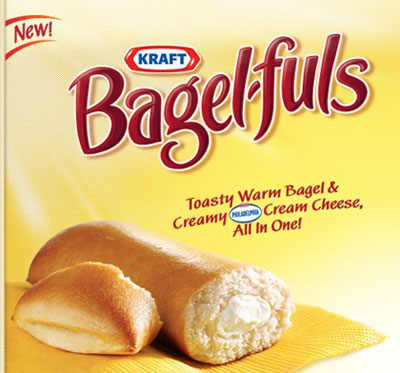 I tried out a new product by Kraft earlier this week called Bagel-fuls and they were really very good.  Bagels are one of my favorite breakfast foods, and I love cream cheese as a topping.
I liked the bagel-fuls because they made a super quick breakfast – the cream cheese is inside the bagel bread, so you just pop the whole thing in the toaster.  They aren't crumbly so you don't need a plate or utensils, which makes for no cleanup – perfect for kids!
I thought the bagel to cream cheese ratio was perfect – I don't like too much cream cheese, and these had just enough to give flavor without being overpowering.  The bread tasted just like regular bagel bread, which I love, and the size is also just right – just enough for a filling and healthy breakfast.
I was surprised and pleased that the cream cheese stays cool on the inside even though the bread gets toasted and warmed on the outside.  I was expecting the cream cheese to be warm and slightly melted, but it was still cold.  AMAZING!
I can't think of anything I didn't like about them…I tried both whole wheat with original cream cheese and white bread with strawberry cream cheese, and both were tasty and filling with only about 200 calories (if you're into counting calories…I'm not, but I know that 200 is a good low number, especially for bagels.)
I enjoyed trying this new product and I think they make an excellent breakfast or snack for adults and children.  Try them!