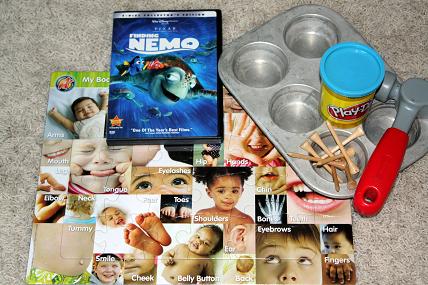 Activity Bag #3
Finding Nemo DVD
Puzzle ($1 at Target)
Muffin Tin
Play-Doh
Golf Tees
Toy Hammer
Although I packed several movies, we only watched Elliot's favorite, Cars. I brought those movies more for our stay at my parents' house than for the drive, but the activity bags were a good place to keep them. However, a portable DVD player is great for long road trips.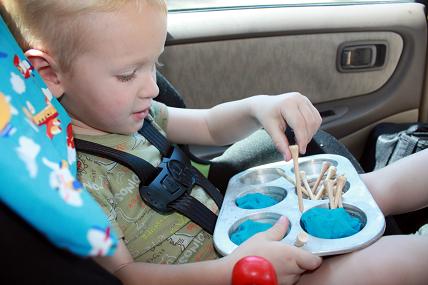 The puzzle was hard to do in the car. He needed a lot of help keeping all the pieces together, and it was almost too challenging to keep his attention, at least in the car.
Elliot's favorite activity from this bag was definitely the muffin tin/Play-Doh/golf tees/hammer. He occupied himself with this for a long time, hammering the golf tees into the Play-Doh. And a muffin tin is great for lots of car activities – I think I"ll always keep one in the car from now on.
We're going to be making the 12 hour drive back home in a few weeks, and these games are going to come in handy once again!
Here are more Road Trip Kids Activity Bag ideas:
Road Trip Kids Activity Bag #1
Road Trip Kids Activity Bag #2