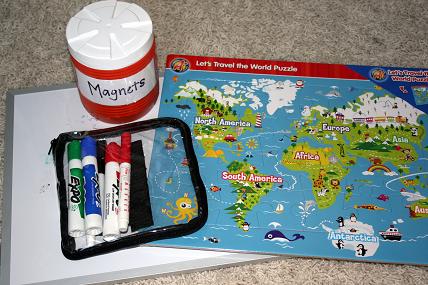 This was another favorite bag, particularly the white board, markers, and magnets. Coloring with new supplies is always fun!
Activity Bag #6
Magnetic white board
Dry erase markers
Magnets
Old sock for erasing
Jigsaw puzzle
The dry erase markers, even the low oder ones, are a little stinky, so crack a window. But Elliot had a great time using all the different colors and erasing.
As for magnets, we brought along number and alphabet magnets and also the hand and foot print magnets that we made a while ago. I made some more magnets with the Cricut, a cereal box, scrapbook paper, and Mod Podge, but I left my pictures of the project at home. I'll post about that when we get back.
Having a pleasant road trip just requires a little planning and preparation, and these 6 car activity bags made our road trip go by quickly with minimal tantrums or other problems. I hope they can do the same for you. Happy road trip!