SMART TOY 2015 #2
to share with you today……………it's……….
MAGFORMERS!
Magformers are one of our all-time favorite smart toys for lots of reasons. First of all, if you haven't heard of or played with Magformers before, let me explain what they are and why they're so awesome.
Magformers are
Colorful
Easy to use
Never frustrating
Strong magnetic plastic geometric shapes
Always attract
Never repel
These magnetic building shapes are perfect for the curious and creative child AND to encourage children to BE curious and creative! They are wonderfully "educational" and require a mathematical and experimental (scientific) mind, build reasoning and logic skills, and strengthen spatial awareness.
And because the pieces are large, the smallest of children are safe to play with them. Their size is wonderful for other reasons too – they do not easily get lost and they can be used to build large structures. The bigger the better, right!?!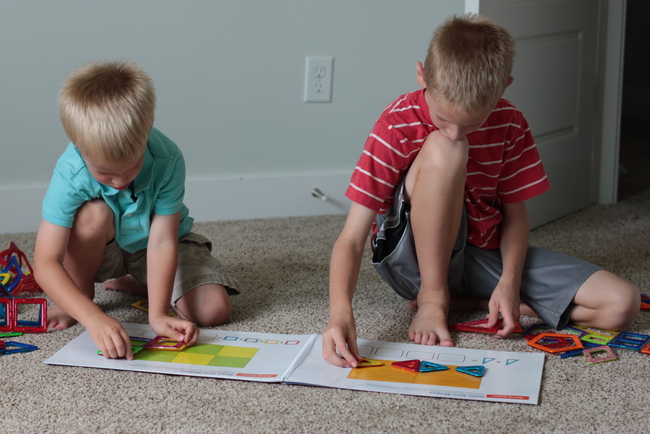 We were lucky to get to try out two sets: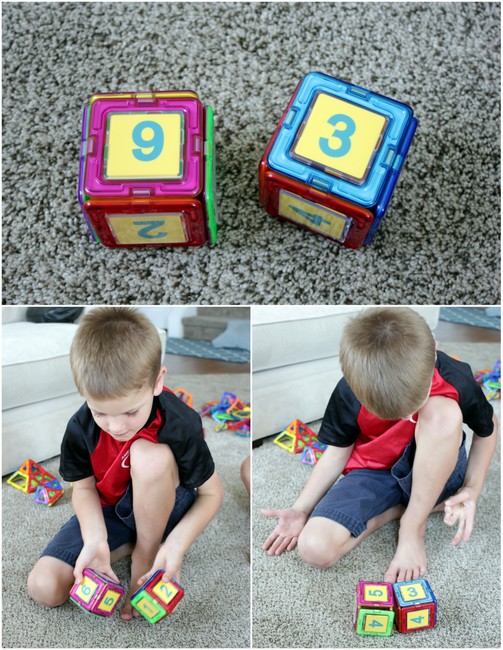 The Math Activity Set features a bunch of cool stuff like these number tiles – the set comes with 39 number cards that are great on their own but even more great because they  fit inside special square pieces that can be used to build other stuff, including dice! My boys really like to put the numbers in the slotted squares and build dice for math facts practice. They roll and tell me the sum or the difference for our daily drill work.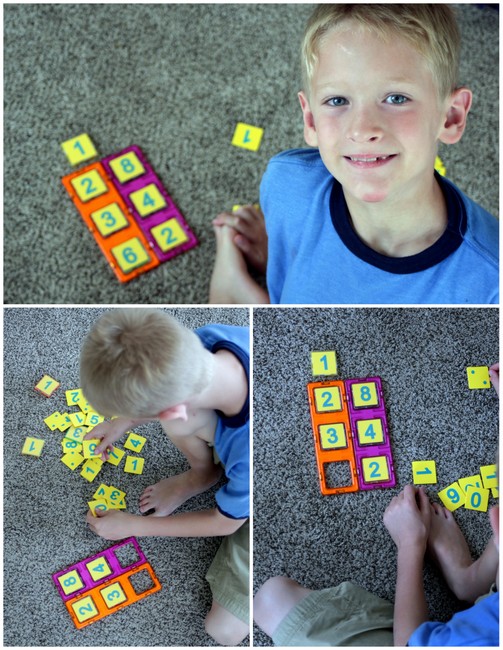 Elliot is working on carrying in math right now so we use the number cards to physically show how that works. He adds the two numbers in the right hand column and finds both of the numbers – in this problem the answer (8+4) is 12 so he grabbed a 1 and 2, put the 2 below the right hand column of numbers and the 1 up at the top of the left hand column to show carrying the 1.
Doing our math problems this way has really helped drive this skill home for him. He totally gets carrying because he's been able to work it out with these tiles and really see what it means to "carry the 1."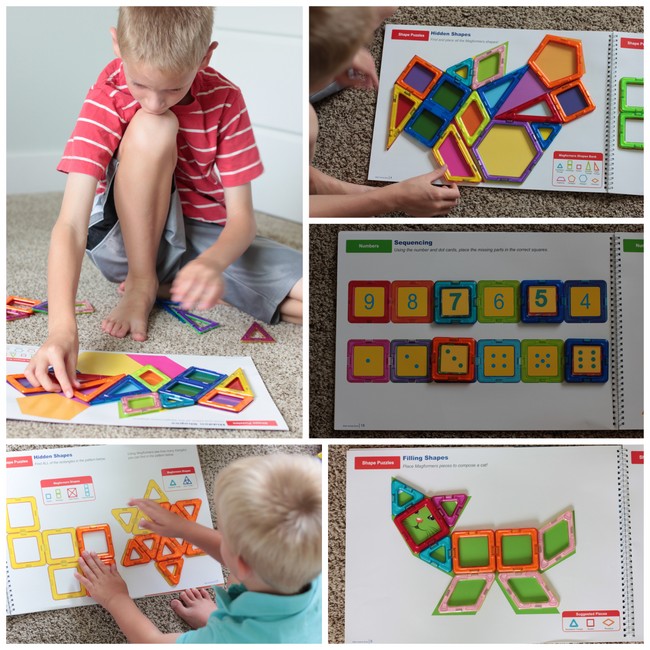 Aside from using the number cards to help us with math facts, the set comes with a special activity book FULL of fun games, puzzles, and patterns to complete. The math activities in the book have been fun for all three of my boys (4, 6, and 8) and include
Shape Puzzles
Making Shapes
Numbers
Patterns & Symmetry
3 Dimensional Figures
After just a few days of playing with Magformers, even Linus (4) knows the names of almost all the shapes. I pointed each out and named it for him a few times and he's got most of them down.
The Math Activity Set includes 124 pieces:
22 Small Squares
42 Equilateral Triangles
4 Trapezoids
8 Right Triangles
6 Isoceles Triangles
5 Rectangles
8 Rhombi
2 Pengatons
2 Super Squares
2 Super Triangles
4 Hexagons
16 Slot Squares
3 Super Rectangles
39 Number Cards
1 Math Activity Book
It's a jam packed set with all the best pieces for building an infinite number of creations!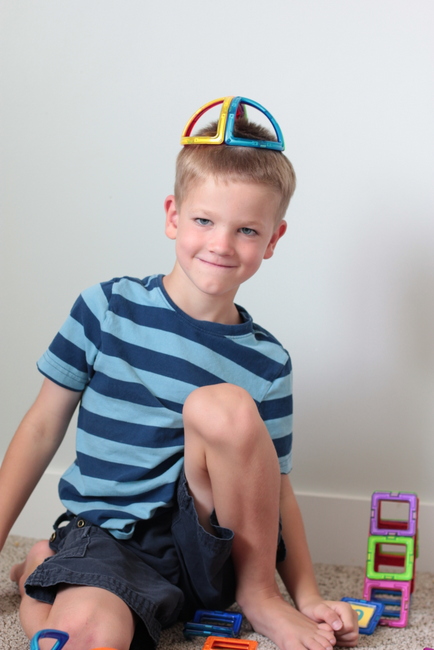 The Unique Set is another 44 specialty pieces you have to have in your collection – they are just like the name of the set, very unique pieces that open a whole new world of building possibilities AND that you can't get in any other set!
The pieces are Square, Sector, Arch, Cone, Sphere Sector but they're all curved! Perfect for making hats (above) and glasses (below), and face masks (way below) among many many other things.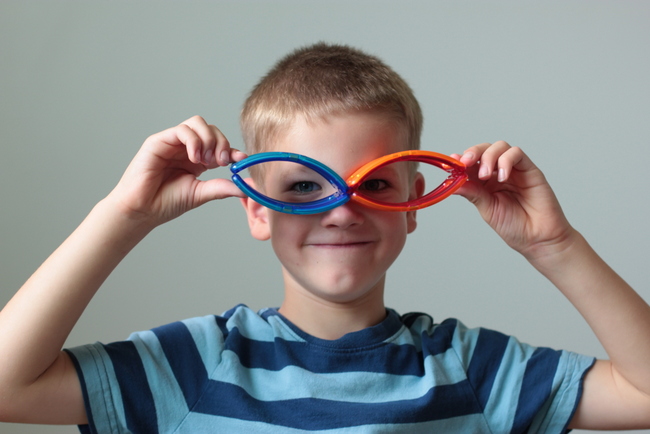 The curved pieces have been my kids favorite individual pieces by far – they are just so interesting and enable curved windshields, walls, roofs, hulls, and so much more.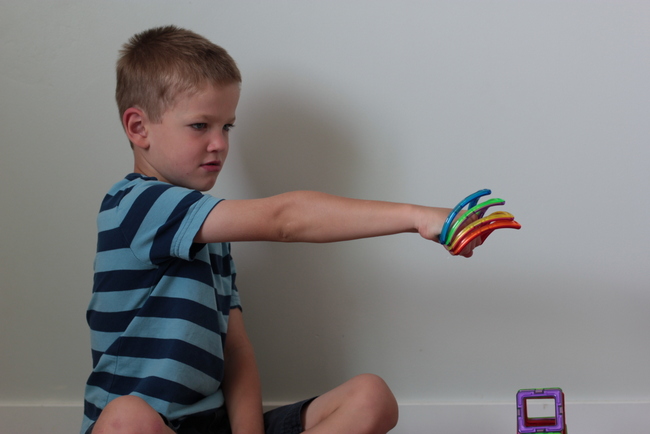 And weapons – the pieces are just right for simulating weapons. Gah!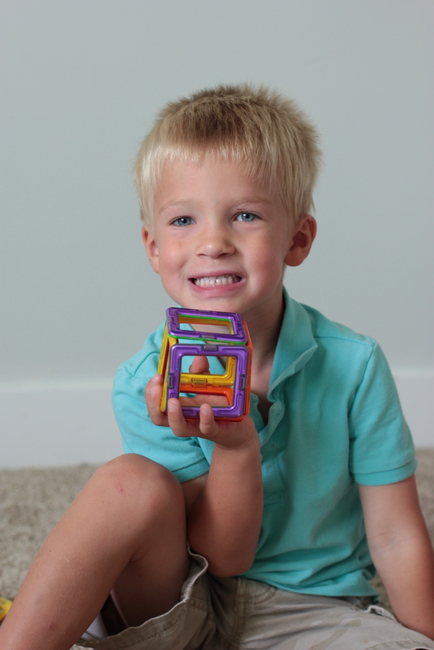 The recommended age is 5 years old, but my Linus loves them too and I feel perfectly comfortable letting him play. He's 4 but developmentally mature (he's a BIG 4, taller than most 6 year olds we know, what do you expect when both of his parents are over 6 feet tall!) so use your own judgement based on your child's abilities and maturity. He can build some pretty great things – his favorites are houses and cars.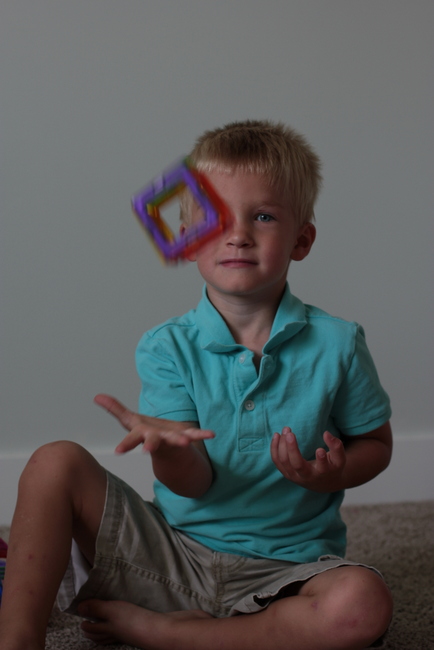 And balls… another given with boys. Toys are for throwing!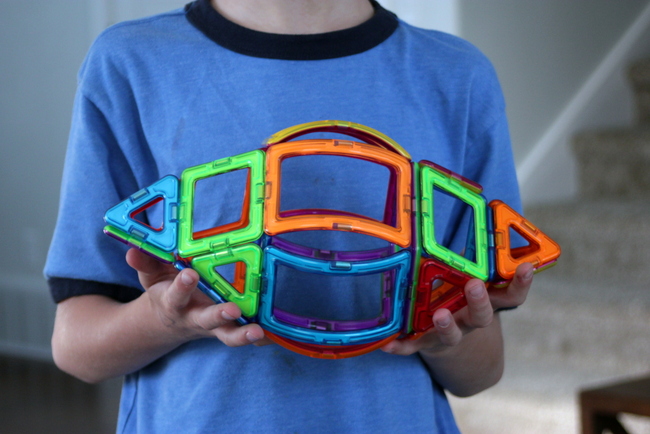 Besides the amazing math and reasoning possibilities, the creativity these Magformers spark keeps us all smiling. There is absolutely no end to the creative structures my boys have masterminded – this is a football I think. See what I mean?! ? Weapons and balls every single time. :)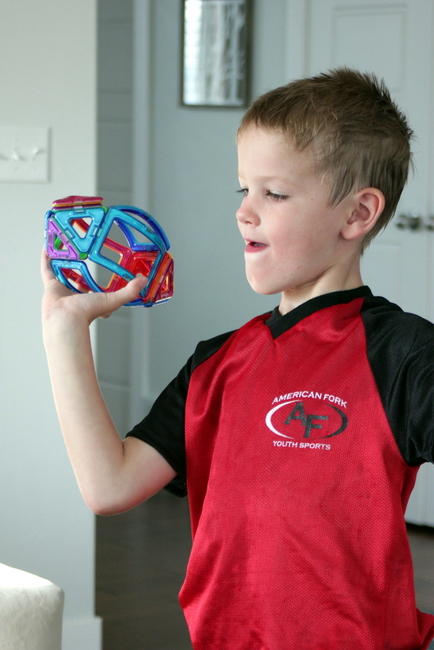 The best thing about Magformers is how well they stay together. The magnets are strong enough to hold whatever gets built together but they are still easy to separate. Just don't get any two pieces too close that you don't want to end up touching!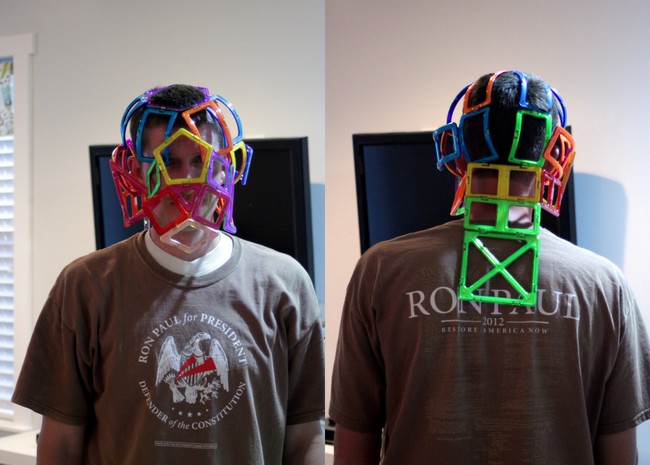 The Magformers are one bucket of toys that gets played with by our whole family, Dad included. He crafted himself a Bane mask. Scary! But so cool.
Put Magformers on YOUR Christmas list this year – they will give you hours of serenity and your children hours of creative fun. They are pricier than the average toy but when it comes to toys, you get what you pay for. Smart toys are an investment and they are well worth it.
Check out Magformers on Amazon and get a head start on your Christmas shopping!
{Thanks to Magformers for providing free product to facilitate this review.}