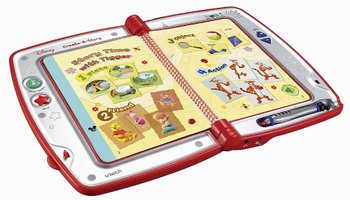 This is a new little toy product called Create-a-Story by VTech that we were lucky enough to be able to test out. This toy is great because it's interactive – kids love and need to be able to take an action and see a result. With this toy, the child has a little pen (which prepares them for writing in a few years, a great element of the toy) with which they point to all sorts of things on the pages of any one of several books. Each little picture has a game or story or activity that goes along with it that the narrator reads. There's music that you can turn on or off and my son just loved to push random buttons to see what would happen.
Another cool feature about the Create-a-Story is that you can hook it up to the TV. As you read the story and choose what to do on the pages, the story comes up on the TV where you can watch it. Your child can write his or her name and it will appear on the TV!
The little books can be different every time because you get to create your own story by choosing your own characters, objects, and plot. Through the different activities and games your child can learn excellent pre-reading skills like word identification, story parts, and listening comprehension.
This is a great new educational toy – my son loves to read and so of course he likes these interactive books that he can almost do all by himself. A great idea for a Christmas gift this year!