My young kids are constantly wanting to watch television shows on the internet. I usually let them watch one show a day after all their schoolwork and chores are done, but since they're only 6 and 4, I don't feel comfortable leaving them to their own devices for that half hour. It's not like putting them in front of the TV for 30 minutes and knowing they're only going to get the show that's on, despite our conversations about internet safety, they could accidentally find 
anything
with a few stray mouse clicks, and that scares me.

So recently, when I heard about Kidoodle.TV, I was thrilled! A kid-safe, ad-free website with only programs that are appropriate for kids? Perfect! We have been trying it out for the last week and love it. Here's why: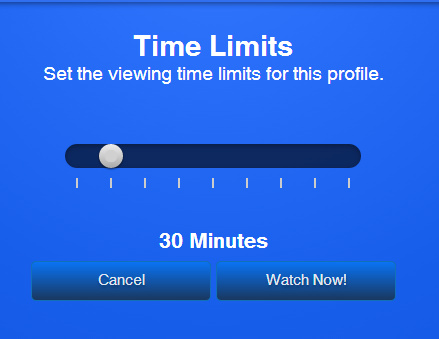 1. Time Limits–Each time I log in I can set a viewing time limit for that session. Usually we do 30 minutes. After that 30 minutes, the show shuts off and the parent's pin number has to be re-entered to allow more time. This is one of my favorite features because, honestly…for the last 9 months of pregnancy I've been using their show time for my nap time…and I love knowing that even if I fall asleep and am not right there to make sure they don't click around to find something else to watch or start a new episode, the show will shut off. I don't have to be right there to do it! For the days I need a little more time I can adjust the time limit and they can watch for 45 or 60 minutes, whatever I need. But when the time is up, it's up. It's a much easier way to get them off the computer –it just stops working and there's just nothing we can do about it!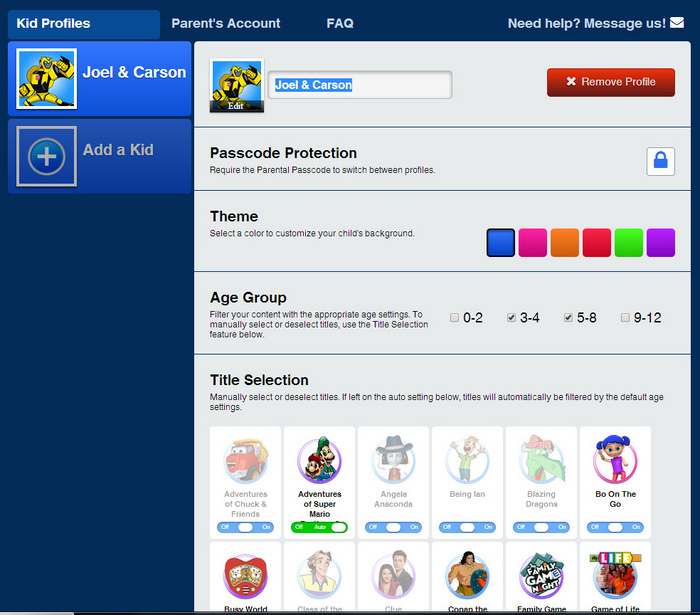 2. Child Profiles– I have created a single profile for both my older kids together because they usually want to watch the same thing, but there is a lot of flexibility within the profiles if I wanted to create separate accounts for my kids. The parental pin is required to switch between profiles so if you have accounts for kids in very different age groups they can't switch back and forth. You completely avoid the situation where a younger child is watching something they shouldn't be. The shows are organized by age group too which makes it easier to find something appropriate and appealing for kids of any age.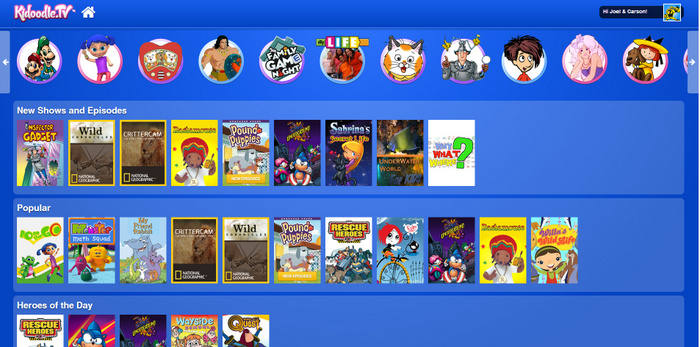 3. Variety–Most of the shows on Kidoodle.TV are older, which I love. They're good, clean, classic kids shows and my kids love them. Their favorites right now are Inspector Gadget, Redwall, Mario Brothers, and Richard Scarry. They had never seen any of these shows before because they are older, so it's a really nice variation from what they're used to. We could keep busy with what's available here for a good long time.
4. On-the-go — Kidoodle.TV is available for mobile devices so take it with you wherever you go! Sometimes it's just what I need for an extra long wait at the Dr's office or in a grocery store checkout line.
To learn more about Kidoodle.TV, check them out on Facebook, Twitter, and Pinterest. Also, enter to win one of 3 iPad Minis being given away in March and April. All in all, Kidoodle.TV is just what we need for our young family: a safe and protected place for them to watch tv. They love it, I love it, and you'll love it too! Click here to try it out FREE for 14 days and let me know what you think! If you love it, get 25% off a 1 year subscription (discount code BLOGHER25) through June 2014. Otherwise, it's just $4.99 a month.
ENTER TO WIN A $100 VISA GIFT CARD. To enter, leave a comment telling me what devices your kids use. Do they have their own or share with the whole family?
Sweepstakes Rules:
No duplicate comments.
You may receive (2) total entries by selecting from the following entry methods:
Leave a comment in response to the sweepstakes prompt on this post
Tweet (public message) about this promotion; including exactly the following unique term in your tweet message: "#KidoodleTVBH" and "#SweepstakesEntry"; and leave the URL to that tweet in a comment on this post
Blog about this promotion, including a disclosure that you are receiving a sweepstakes entry in exchange for writing the blog post, and leave the URL to that post in a comment on this post
For those with no Twitter or blog, read the official rules to learn about an alternate form of entry.
This giveaway is open to US or Canada (excluding Quebec) Residents age 18 or older. Winners will be selected via random draw, and will be notified by e-mail. The notification email will come directly from BlogHer via the sweeps@blogher email address. You will have 72 hours to respond; otherwise a new winner will be selected.
The Official Rules are available here.
This sweepstakes runs from 3/17-4/18.
Be sure to visit the Kidoodle.TV brand page on BlogHer.com where you can read other bloggers' posts!