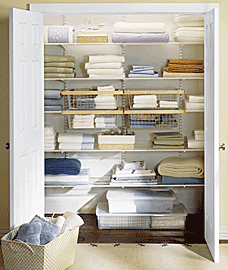 In honor of January being National Get Organized Month, this post about planning is the first in a five part series about getting organized! For more organizational hints after this post, click here:
Organizing Tip #2: Sort
Organizing Tip #3: Strategize
Organizing Tip #4: Analyze
Organizing Tip #5: Attack
PLAN
I went to an organization class last week at our public library and learned some very useful things. I love containers and organizing and re-arranging things so this class inspired me to do some pre-spring organizing & purging. I feel like a new woman with much less clutter and junk! It's a wonderful feeling, I highly recommend you simplify your life by decluttering your house.
SOooo, over the next few days I'm going to share some of the tips I learned with you.
The class was taught by Laura Lawrence and Vicki Winterton, two professional organizers. I'll share some of their ideas with you.
We use 20% of our stuff 80% of the time. If you use something a lot, find a home for it. Everything you own needs to have a home; a place where you always put it when you're finished and can find it when you need it.
Organizing takes a lot of thought and preparation before you actually begin decluttering, so your first assignment is to think about what you would want if you had to evacuate your house with only two hours to gather your things. This exercise will really help you identify what is important to you and what is just taking up space.
Ask yourself the following questions to determine what you should keep and what you should toss/give away, etc:
Do I like it?
Do I need it?

Will I use it?
Do I have room for it?
In my own decluttering adventure, I found that asking myself if I liked something was really helpful. I found that I was holding on to a lot of stuff that I didn't even really like thinking that maybe someday I would like it or someday it would come back in style. If you don't even like it, get rid of it!!!
January is National Get Organized Month, so get thinking about what you use, what you need, and what you can live without.
[photo from thecontainerstore.com]