Infant Products
3 Month Old Products
9 Month Old Products
Here we go again, for 6 month olds this time. By 6 months, babies are usually sitting and getting better with their hands, so these things are great.
1. Fisher Price Booster Chair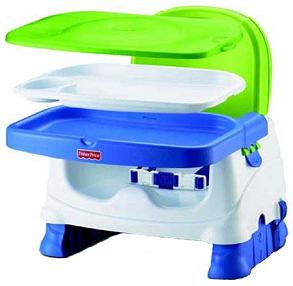 This chair is awesome for baby as soon as he can sit up. A booster chair takes up so much less space than a high chair because it straps onto one of your regular chairs. I suppose that might not be a good thing if you're short on chairs… This chair is small and compact so you can easily take it with you to restaurants or over to your parent's house, etc. You can even use it to keep baby contained so you can get some work done!
2. Fisher Price Nesting Blocks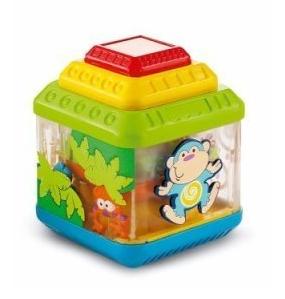 I got these at a yard sale and was surprised at how much Joel was able to play with them at 6 months. He could take them apart almost right away. He eventually learned how to put the blocks back together, so this is a good toy because baby can grow into it.
3. Fisher Price Star Stacker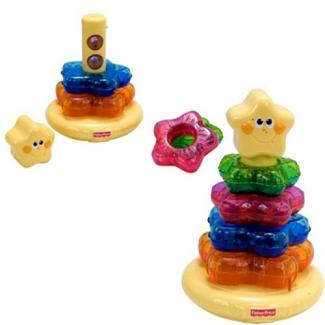 Another garage sale find – Joel has loved this toy since I got it last summer. He doesn't care too much about the star stacker part, but it plays music, which he loves! He still pushes the button and dances. Of all the ring stackers out there, this is my favorite. It's brightly colored and so much fun!
4. Fisher Price Alphabet Blocks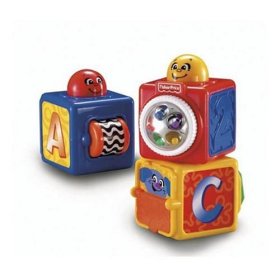 Wow, I got a lot of 6 month toys at garage sales! This is another one! These are great blocks because they have moving parts. You can push the button on the top and the part on the front does something really fun. Each one is different, and when you stack them on top of each other and push the button on top, all three blocks do their moving thing!
5. Infantino Morty the Moose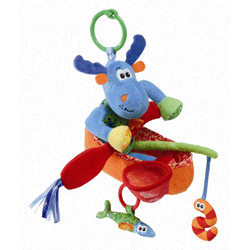 This is an excellent quiet toy for church or the car. You can see all the little hanging parts – the fish and the snake got sucked on a lot! The oar has that crinkly paper in it and there's a bell somewhere inside. This is a good toy for 6 month olds and even younger because of all the tactile elements, bright colors, and quiet sounds.
Wow, Fisher Price really stole the show for 6 month products. Please tell me your favorites for this age!