Infant Products
3 Month Old Products
6 Month Old Products
By 9 months, baby is ready for larger and more active toys. These toys are my favorites because they have lots of moving parts and require the baby to interact more with them. Watching Joel play with these toys has been so much fun because he would get so excited with each new discovery.
And I've included a few feeding items as well because 9 months is the age when Joel started eating more solid food and was ready for a sippy cup, etc.
1. Fisher Price Activity Wagon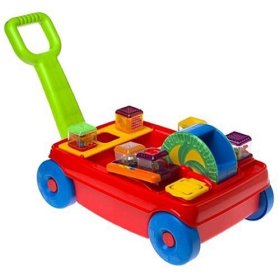 If you hate the kid toy music, you probably won't like this toy. I don't mind all the different songs that all of Joel's toys play – I think it's kind of fun! And Joel loves to push all the buttons on the musical toys at once and dance to the crazy mix of sounds.
This wagon is great because it has so many different things to do. There is a little flap that you lift up and down, you can spin the wheel and send the peek a blocks flying, there's a teeter-totter for the blocks, and you can pull the wagon by the handle also. Each little moving part has its own music. This is a great toy for babies starting at 9 months and will keep your baby entertained for many months to come.
2. John Deere Animal Sounds Hayride
This toy is great to teach animals sounds. Each little figure (Farmer and the four animals) is removable. There's a little button under each of the 5 figures with a picture of the figure. You get to hear the animal noise when you push the button. The farmer's button plays "Old McDonald." So this is great because they can associate the picture of the animal on the button with the sound the animal makes. And it rolls, so little boys love it!
3. Lil Tikes Caterpillar Xylophone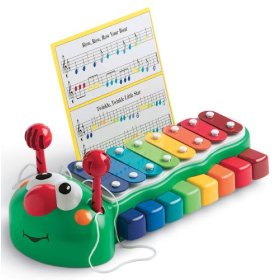 I bought and returned several xylophones before I found this one. I just knew I could find one at a yard sale, and I did! This one is way more fun than any of the others because it's a caterpillar! The "antennas" are the mallets for the xylophone and there is also a keyboard for plunking. This is a great toy for babies because it allows them to make their own music! And banging things is always fun too…
4. Portable Place mat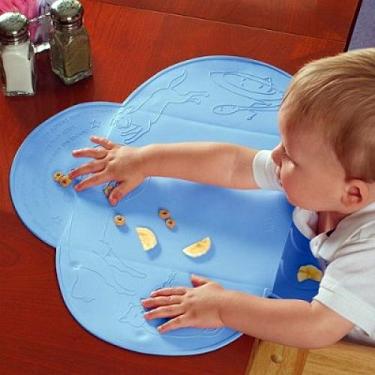 This rubber place mat was a product my sister recommended to me. It has suction cups on the bottom to attach it firmly to the table and also has a little trough to catch all the food that baby drops or spits out. It provides a clean surface for baby to eat off of, which is especially important when eating out at a restaurant. And it folds up very compactly, so storage is convenient.
5. Nuby Insulated No-Leak Straw Sippy Cup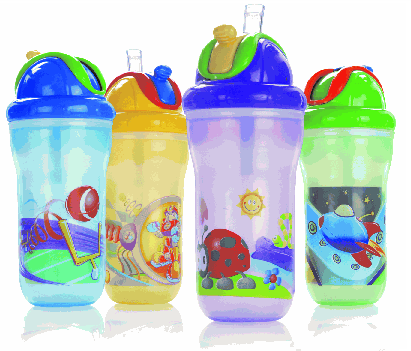 After opening several packages of sippy cups, these earned the Mommy Seal of Approval for non-leakiness. All the packages say "no leak" but as far as I know, this one is the only one that actually means it. I love the straw because Joel was already used to sucking. The straw lets him drink from it without having to lift it upside down to get the water out.
Joel did have a tough time drinking from it at first just because it was new. We unscrewed the lid, got some water in the straw, and dropped the water into his mouth. This showed him that the water was inside the bottle and pretty soon he figured out he could suck on the straw to get it out.
Nuby makes these bottles that are insulated and actually leak proof. They are pretty solid also – they have withstood being thrown on the ground several times a day for months now. Leak proof and heavy duty – my kind of sippy cup!