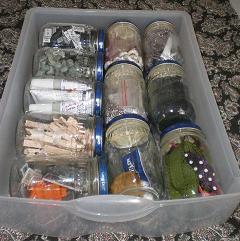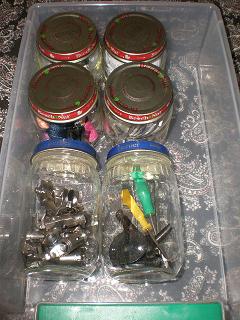 My cupboards were absolutely overflowing with empty baby food jars, and I didn't know what in the world I was going to do with them all. I love containers, and I couldn't just throw away these perfect little jars! I also hate throwing things like this away because I feel like I should be recycling it instead. I wish we could recycle glass here in Utah – I feel so guilty every time I throw a jar away.
I tidied up my office supplies with my spice rack a few weeks ago and just last weekend decided to use my jars to organize a section of my craft room.  I discovered that the Gerber 3rd foods jars fit perfectly in an 8 1/2 x 11 drawer organizer (top picture).
Previously that drawer pictured on the left  was overflowing with little odds and ends, some in plastic bags, others scattered. I sorted everything and filled up my baby food jars with decorative rocks, word magnets, super glue, mini clothespins, jewelry making supplies, ribbons, walnut ink crystals, and art erasers.  As you can see, the drawer is the perfect size to fit 11 of those larger baby food jars.
I did this same thing with a second drawer in a little chest that I use for my sewing things. This drawer now holds my mini anorak snap tools, elastic, mini spools of thread, sewing machine needles, presser feet, and repair tools.
Now that my craft room is a little more organized, let the creative juices flow!